Aug 10, 2014
537
Catalina 22 9874 Newberg, OR / Olympia, WA
Bowprit Front Bracket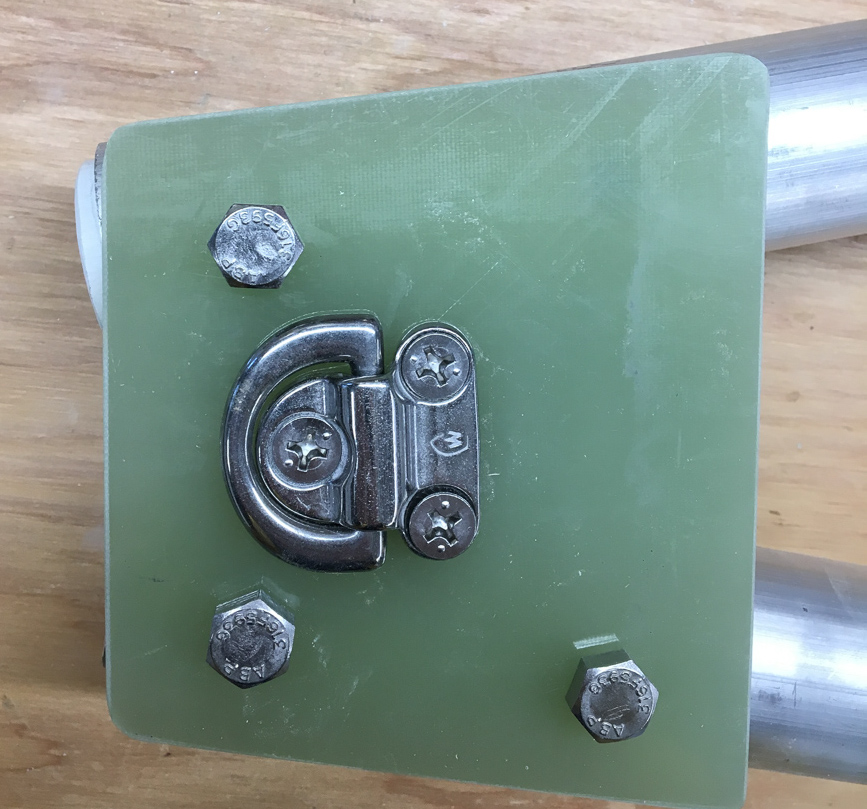 The front bracket is made from two plates of 1/4" G4. I cut each one separately with a jigsaw, then:
--Clamped the plates together
--Sanded them even, so the two would be identical
--Drilled 3/8" holes through the clamped plates
Next, I drilled holes in the tubes and test-fit. IIRC, I drilled the foward hole in each tube, bolted the assembly together, and then used the holes I'd already drilled in the G10 plates to guide drilling the aft holes.
I think it took me a couple tries and various rounds of test-fitting to get the angle right; thankfully, G10 isn't terribly expensive.
I glued a small 'box' of G10 in between the poles, because I was mounting a pad eye on each plate, and wanted something to take the compression load of those bolts, avoiding additional unpredictable loads on the plates themselves.
The bolts on the port side are fixed, bolted to normal tension and capped with slip-on black plasic caps (for looks and to avoid scratching up other surfaces when moving the sprit around).
On the starboard side, I used a longer bolt with double lock-nuts tensioned to each other, leaving the bolt just loose enough to allow the rod to pivot. And a quick pin in the aft slot. This allows quick removal of the sprit:
--Remove the pin (pulling on the little Amsteel loop)
--Remove cotter pins on aft mounts (also with Amsteel loops)
--Pivot the starboard pole outward and off the aft rod
--Slide port side off the rod and remove sprit
(Note that it's still attached to the bobstay, so you're not at risk of dropping it in the water)