Apr 1, 2010
398
Cal 33 and Sea Pearl 21 . Crystal River, FL
after finally putting the axle back in after losing a bearing a couple of weeks ago I decided to just check the keel bolts while I was near. I had zero intentions of messing with anything, I just wanted to see what I was going to be in for when I finally did get around to dropping the keel. the starboard aft bolt looked to be a little looser than the other one so I started there. barely touched the damn thing (seriously) and the head fell off!!! :cussing::cussing:
then since I knew I wasn't sailing soon I proceeded to check the others, the port aft broke off also and the two forward bolts came out clean. now overwhelmed with the number of small projects I had going on (wiring, gps install, led nav light install, fiberglass work on the hatch) I had a talk with the wife and decided to do a quick mini-rebuild on her. I will be replacing a few small areas of on the cabin top/cockpit, kiwigripping the whole thing and painting the cap and the hull. I will also be making new crib boards and trim and doing other odd and end trim work.... all because I just "had" to check the dang bolts
here is where I am as of today. I cant decided whether or not to have the keel sandblasted as the PO seems to have shaped it pretty well and I would hate to mess it up.
first comes the keel:
pin had hardly any wear: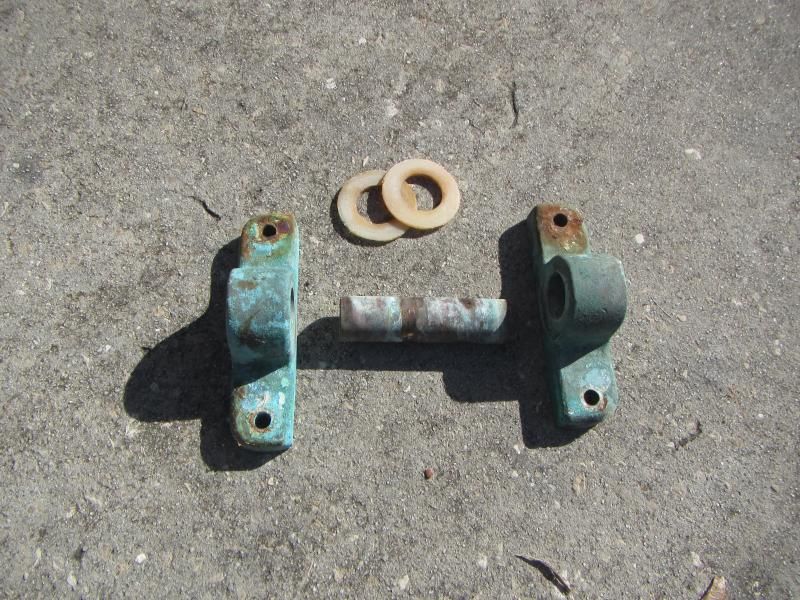 keel after some grinding:
whats left of the starboard bolt. I am going to REALLY try to get it out as that would save me from having to cut out the finished part of the trunk to replace the weldment:
then I went inside the boat to take a break. for whatever reason I grapped onto the hose for the keel cable and it seemed awfully flexible. I then proceeded to remove it with ZERO effort!!! man did I luck out that it didn't come off while sailing! then I saw the turning ball:
and last but not least the hatch. when I bought the boat, the area where the hinges bolt were broken off. this is halfway through the repair: