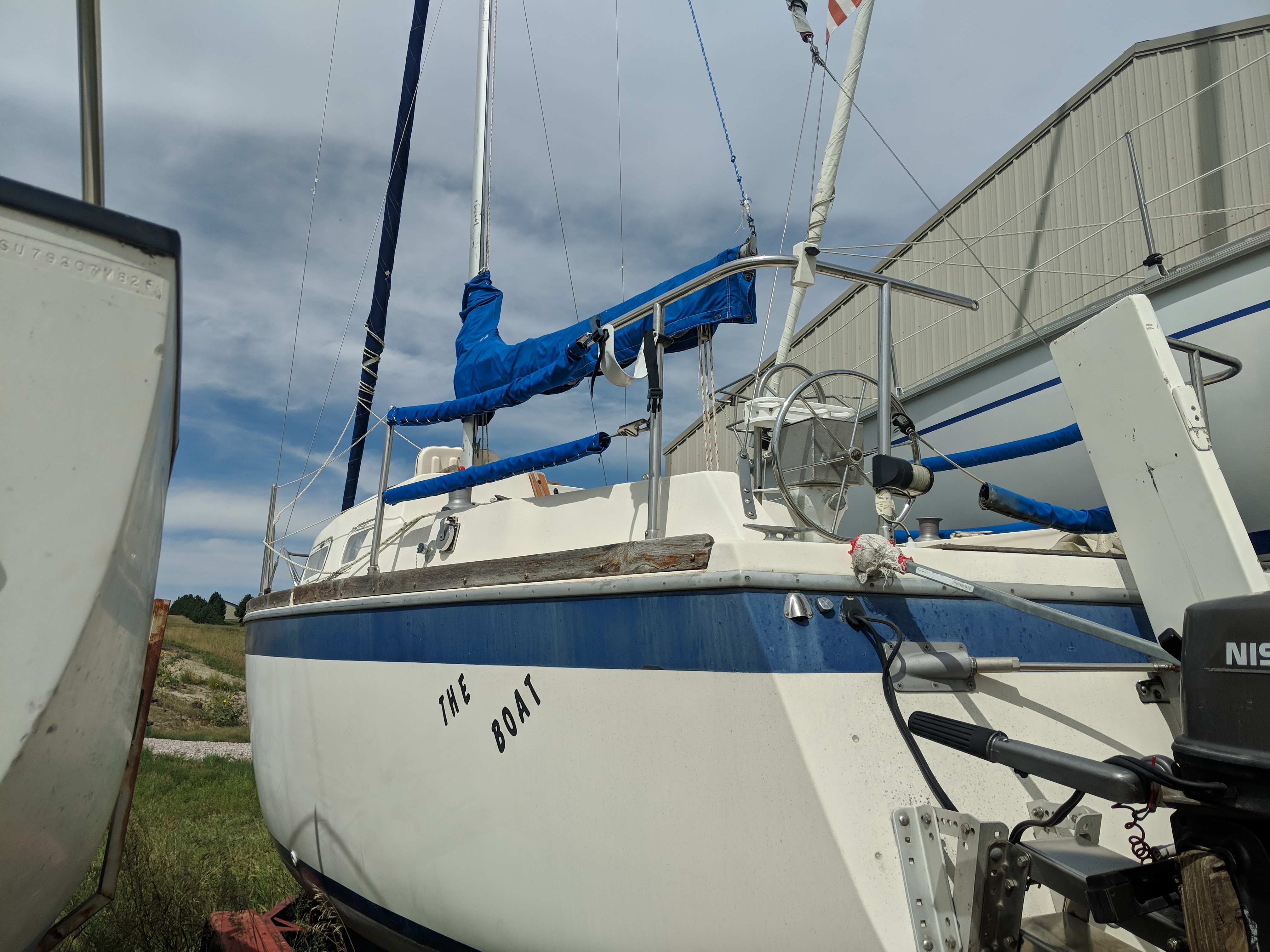 May or may not keep the name. We need to get to know her before we petition Posiden to forget the old name.
I started a thread back here:
https://forums.sailboatowners.com/index.php?threads/south-coast-26.193256/
asking what to look for and if anyone had ever owned one of these. The ship looked pretty good and going on the advice here and at another forum my girl friend and I bought it. We got it at a pretty low price we think, but we also know that is because it needs work. It has been sitting for a couple years. There are some obvious issues, and some that I am sure will crop up as we dig into it.
This thread is going to probably be a slow one. Time and money are involved, and I find I have one or the other. Some things are well with in my capabilities and others I am going to have to learn as I go. We hope to get her sailing this year (cold wind doesn't bug me, thats what long johns are for). And hope to have a lot of fun pulling it around to different lakes and reserviors this next summer, with a two week trip with my two daughters and my girl friend at the end of it on Lake Peck in MT. This first post is going to be mostly words and notes for myself. I know a few things that need to be done right off the bat so I plan to use this as a place to keep my notes and add to them as time goes on. The thread itself will be very pic heavy is my current assumption.
The goal with this ship is to make it sailable by one person. My girlfriend and I will be sailing together since it is our boat, but you never know when something might happen and you need to solo while someone else is on bedrest. Being able to do anything on the ship by yourself is important. Including raising and lowering the mast.
To Do List in no particular order:
1 Get the boat from Lake McConaughy to Denver Metro where I live.
Done!
2 Clean the thing, its been sitting!
3 Rebuild the entire trailer brake system and install new EVERYTHING.
Done
4 Rebuild the trailer lights.
Done
5 Rewire the ship - The electrical makes me twitch a bit, Everything is getting gutted and done right. Then I am going to put many of the switches needed to operate things right at the steering so it can be done with out leaving the wheel.
6 Tighten up all the bolts going through the hull. Some have play. I think some backing plates are in order, but haven't crawled around to check.
7 Sand and seal the wood trim, or replace.
8 Install a refrigerator freezer where the ice bucket cooler is.
9 Expand the storage shelves
10 Build a gin pole and incorporate a small electric winch for raising and lowering the mast
11 Oil change and general maintenance on outboard
12 Build mast holder that slides into rudder holder
13 Address the winch system for keel. Needs to be tested and either rewired or replaced.
14 Change the lighting of the interior to led
15 Install some book shelves
16 Possibly change out the front hatch with an RV fan and cover.
17 Repair main sail where threads have unraveled
More to come as I explore this and find other projects. Goal right now is a test run on the water in a month to 6 weeks. But cant really start till the girl friend gets back from elk hunting. She wants to do this together and I agree.
Last edited: