.......................... because it's soaking wet from another leak on my Jabsco head. Up until now, I've put up with the leaks from every possible gasket, seal, and whatsit you can imagine. Usually, not too much trouble to repair and although a new pump repair kit is almost the same price as the complete head, it's still easier than installing a new, superior brand of head. And the Jabsco is a nice tidy fit. But no more
. The last unpleaesant surprise was a tiny little spray on my hand as I pumped it out. Huh ? Say what ? Finally traced it down to a microscopic leak from the piston rod seal. Everything had been slathered in Superlube at the beginning of the season and now this had given up. Aw crap (literally)
So the new replacement will be a Raritan PH Superflush Manual Marine Toilet P101.
Same base bolts location as the old "Jabsco POC" (piece of crap). So far so good.
Now the hurdle. The old Jabsco is positioned quite near the rear wall as shown:
and has a 45 deg discharge elbow which feeds the hose through a factory cut hole made back in 1999. All very neat and tidy.
The Jabsco manual shows the 45 deg discharge elbow as: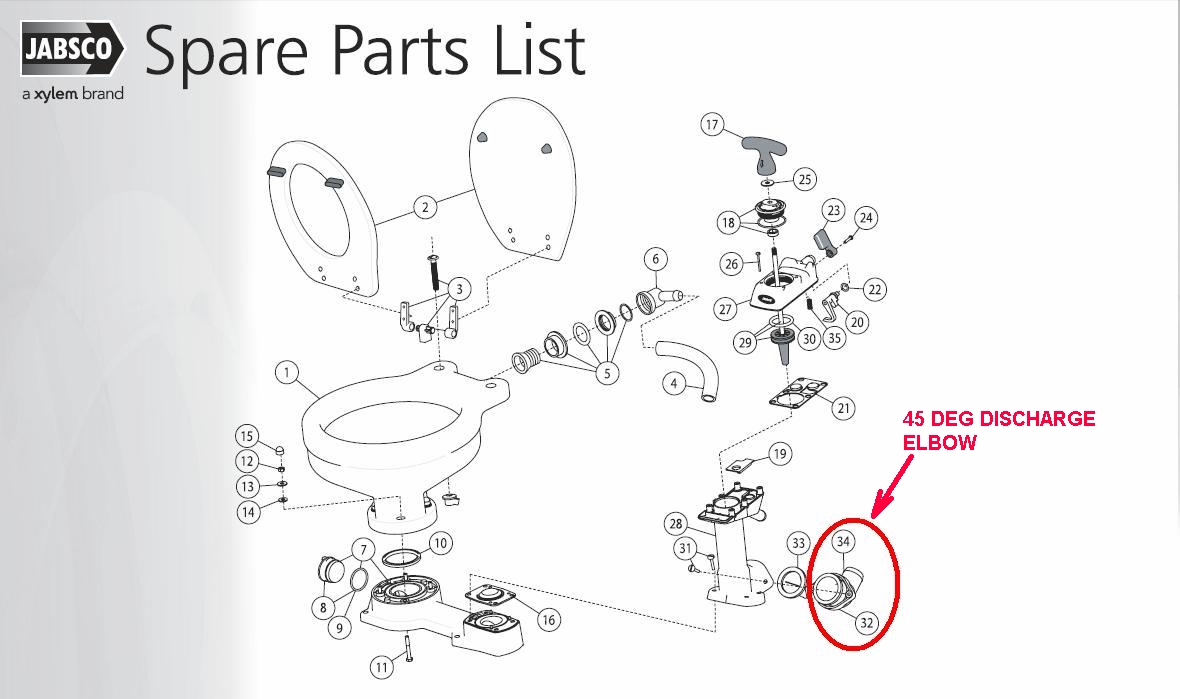 And now, the problem with the Raritan P101. Their discharge elbow comes as either a 90 deg. elbow (41) or a straight discharge (42) as shown:
Either of these two Raritan fittings are not going to allow for an easy installation of the discharge hose behind the new head. At this point, the only solution would be to bore a new hole for the discharge hose and leave a big old ugly hole behind.
My question is, "has anyone swapped out a Raritan head for a Jabsco head and were you able to swap the 45 deg Jabsco discharge elbow for the Raritan discharge elbow "ie. are they interchangeable ? Much of the Raritan appears to be a copy of the Jabsco so just maybe there's a one in a million chance of this working.
You know that any and all replies
, snide remarks
, disgusting jokes
, and guffaws
, will be appreciated
. Thanks.
Last edited: