Hello everyone, I just went and took ownership of a 1979 O'Day 25. Just to keep it open an honest I paid absolutely nothing for this boat, it was offered free on Facebook marketplace because the current owner was moving, never used it, had no luck trying to sell it and wanted it to go to a family that would enjoy it. As for me I am a first time sailboat owner now and have basically zero sailing experience. I picked her up near Baltimore MD and will be sailing her down to my home in Chesapeake VA (give or take 157nm) however that trip will not happen until around August so for now I rented a slip near where I picked her up and she is just hanging out there after a kind passer-by towed her over to the marina for me (outboard is dead, details in a minute). I have a friend who has been sailing for 15+ years that is coming in August to help me learn the ropes and bring her home safely. I did have an inspection done to it while tied to the dock before "taking ownership" just to see what the professional opinion was and I got thumbs up all around from hull condition, to mast and sail condition and all that. The only negatives I was told is the bilge was a bit dirty and some of the wiring could use a freshen up but according to him you want to see a minimally dirty bilge (apparently too much dirt means a lack of maintenance and no dirt at all typically means there were/are possibly leaks?). The only real issue is the outboard motor which is a 8hp Yamaha four stroke. The inspector told me they came with 2 strokes initially but swapping to a 4 stroke was typical. He made mention that the mount the motor is on was a proper mount to account for the added weight and torque of the 4 stroke. The issue with the motor is that it was run hot with a bad impeller which came direct from the previous owner himself. It is not locked up and still runs but when it is running you can hear the unmistakable sound of a little metal on metal/pinging happening inside the motor and it smokes/burns oil like crazy coming from under the cowl as soon as it starts.
Questions (remember I am very new to all of this):
- how can you tell if your O'Day has the adjustable centerboard? Where is the line for this located? I searched all through the cabin and could not find one.
- In the case of my Yamaha outboard, I know it was run hot with a damaged impeller and could potentially have internal damage even though it still runs (we ran it for about 5 seconds just to see if it actually still worked and shut it off). Would an older Yamaha outboard (2006) be worth saving given that it does still run but is no doubt damaged internally to some extent or is it just a better idea to go get a new motor (pricing them out new they seem to be around $1200 for a pull start and $2300~ish for an electric start). I have no idea what the cost would be to have an 8HP outboard rebuilt vs just buying new and having that peace of mind.
- If I end up getting a new motor is there any downside to going with a manual crank only outboard other than just the effort it takes vs an electric start motor? Do the electric start motors offer any additions pros other than ease of starting?
- Where would the shore power connection generally be located? Mine is inside the cockpit storage locker on the STBD side, is this normal or should it be on the exterior of the cabin area?
Thank you all!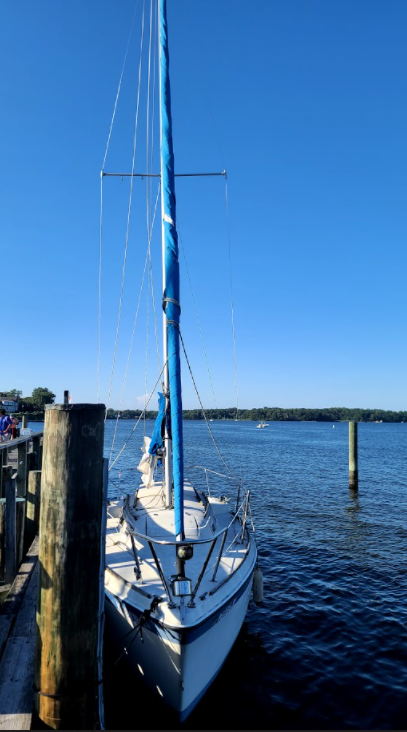 Last edited: