Jun 22, 2004
1,877
Alden 38' Challenger yawl Rockport Harbor
"I've never seen so much gear in the water! From here to Castine,..." , this we overheard anchored in a very private spot about 100 yards from a commercial lobster float in Pulpit Harbor this week. Summer is winding down for many but for lobstermen, we've just entered the pinnacle of their season where they make most of their earnings.
The float is a satellite station for a large broker located in Stonington on Deer Isle. This past weekend, the dock was busy with traffic dropping off catch and picking up bait, during all daylight hours.
The dock ran out of bait, the fuel of the lobster industry. Here a boat scrapes up the last of the frozen bait leaving the dock covered in cardboard crates. There is a bait shortage this season (there often is) due to overfishing of Herring stocks in the rapidly warming Gulf of Maine.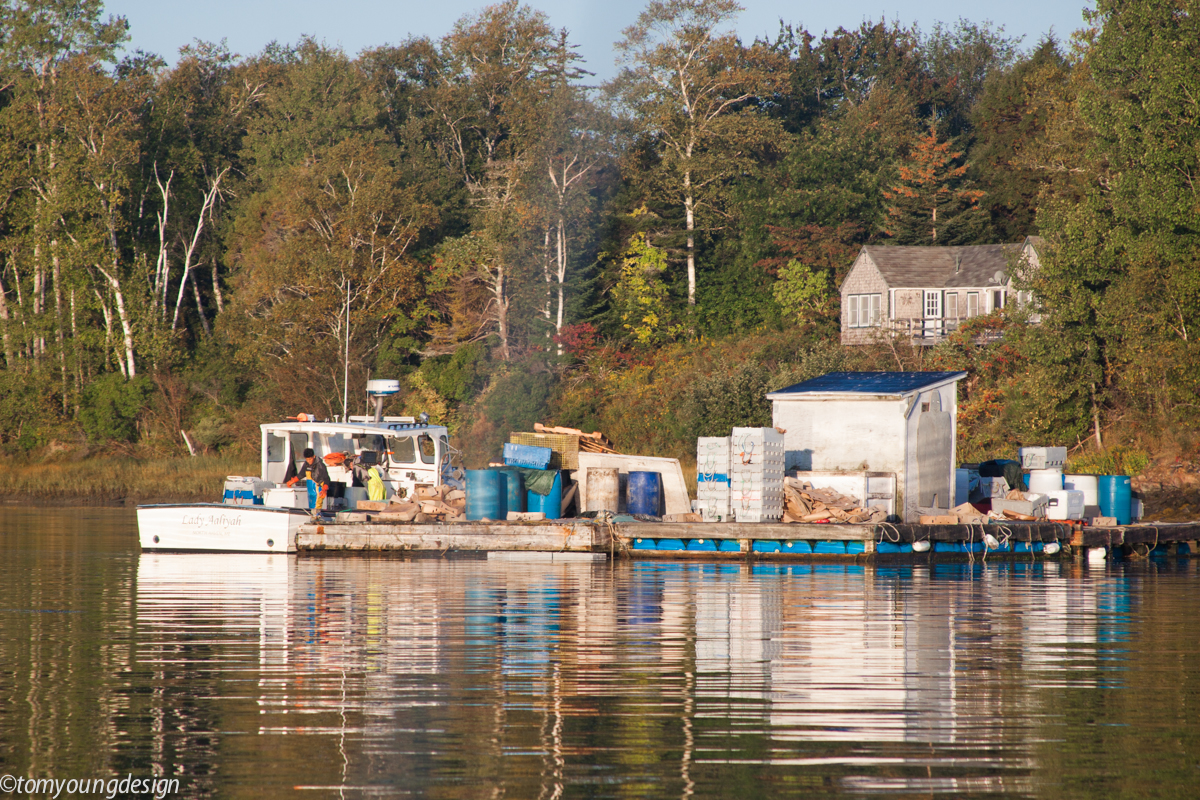 Another pallet of frozen bait (species from afar) arrives as fishing boats hover around. A local fisherman sets a gill net for Pogies (Menhaden) which have overtaken much of Maines coast in the last few years largely replacing Mackeral in many harbors.
It takes him nearly 2 hours of grueling work to haul the net - by hand - into his boat. His little boy plays nearby. The new Pogie fishery, just opened on a limited basis(also overfished), is strictly for supplying bait to the lobster industry. All kinds of exotic new baits are being marketed with limited success.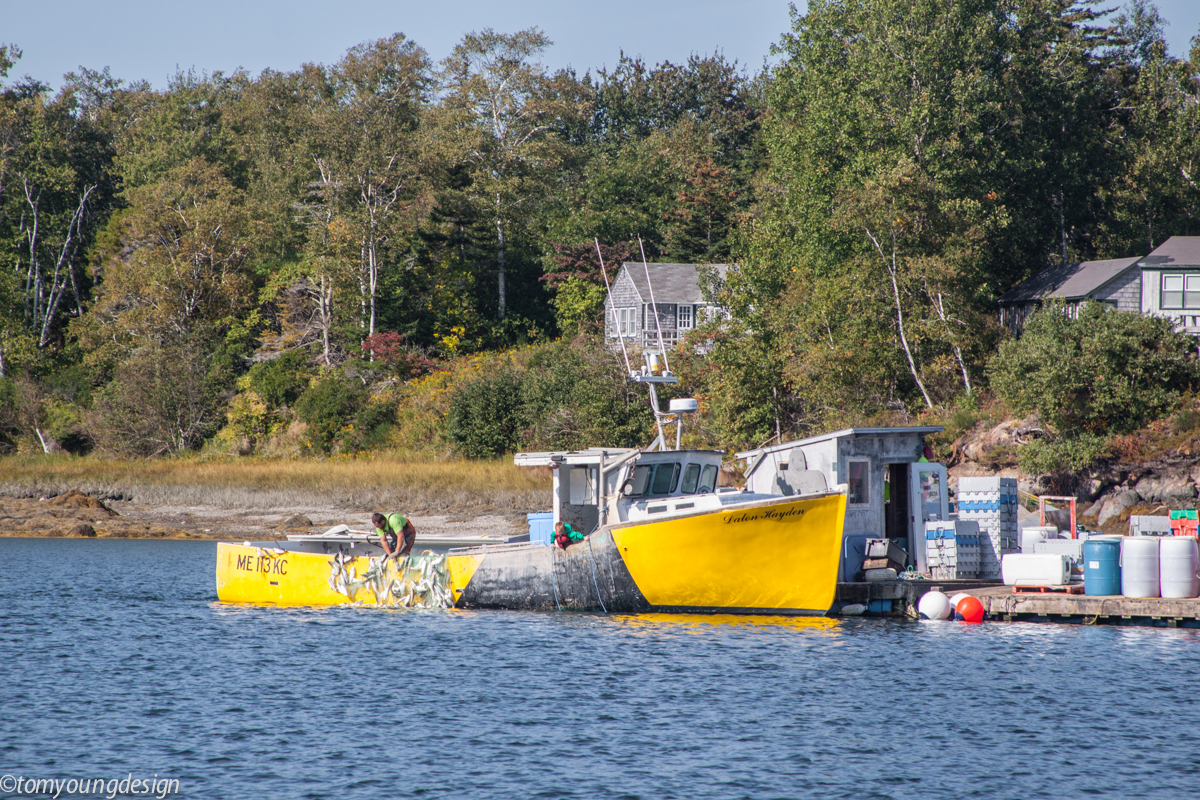 The gill nets are good news to this Bald Eagle (common these days, amazingly) that tried in vain to steal Mackerel from the talons of the faster Osprey gorging themselves. The wounded Pogies are fair game for the slow eagles.
Fishing for a living, that's our coast. Warming sea water is a conveyor belt along New England marching species steadily North, to cooler water, and bringing new species in, from warmer water down South.
A new generation of fishermen (of all species) have taken the wheel during these changing times. Our changing fishery is keeping everyone on their toes, adapting.
This young crew, carbon sooted flag flying over an expensive investment, worked dawn to dusk all weekend long I noticed. All their gear is out now (800 trap limit). Make or break time.
The bottle in the drink holder was un opened. It could be reserved for the end of the day or the end of an era.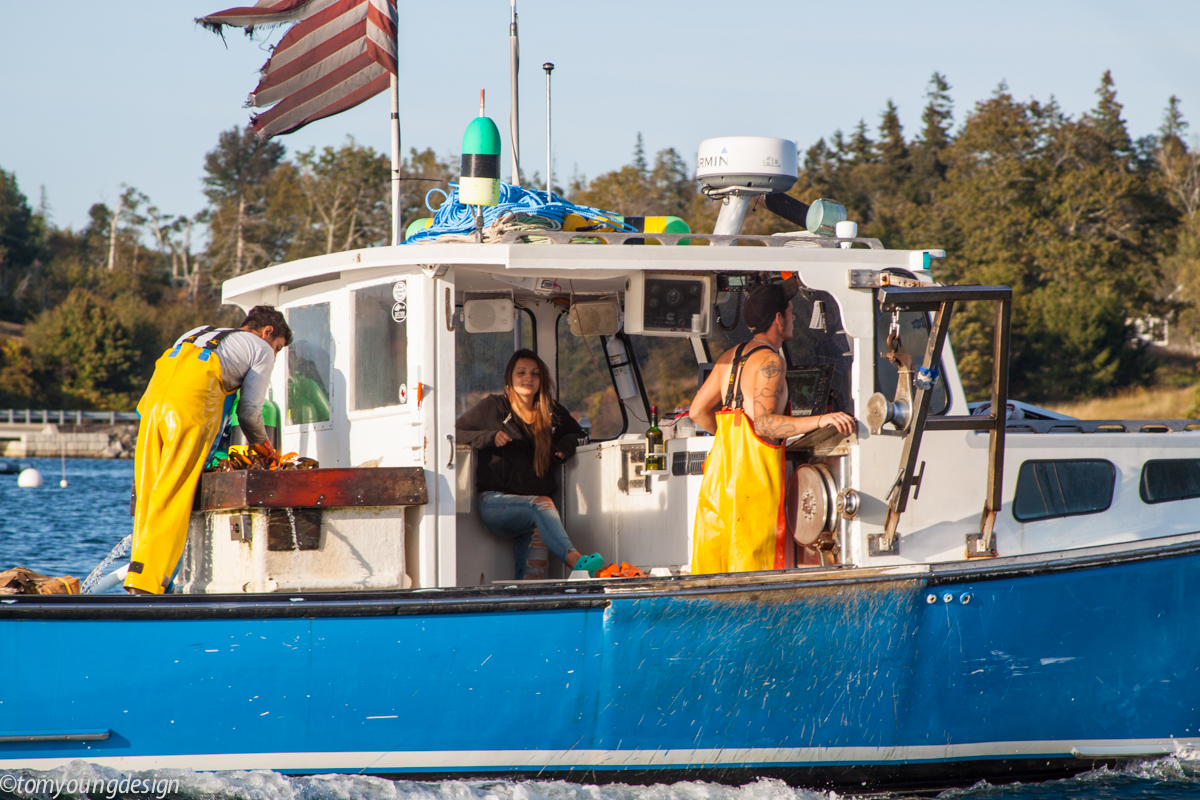 Last edited: