Hi all, new sailor here, so first, thank you for any insights. Taking all the help I can get and trying to learn. I acquired an old '74 Catalina 27 over the winter. Been working on her all spring and now have been out a few times with the wife and young daughter. We would like to install a Bimini on the boat to give shade in the cockpit, however at the stern side of the boat the rigging is a bit different than many other boats I've seen / been on. Please see photo.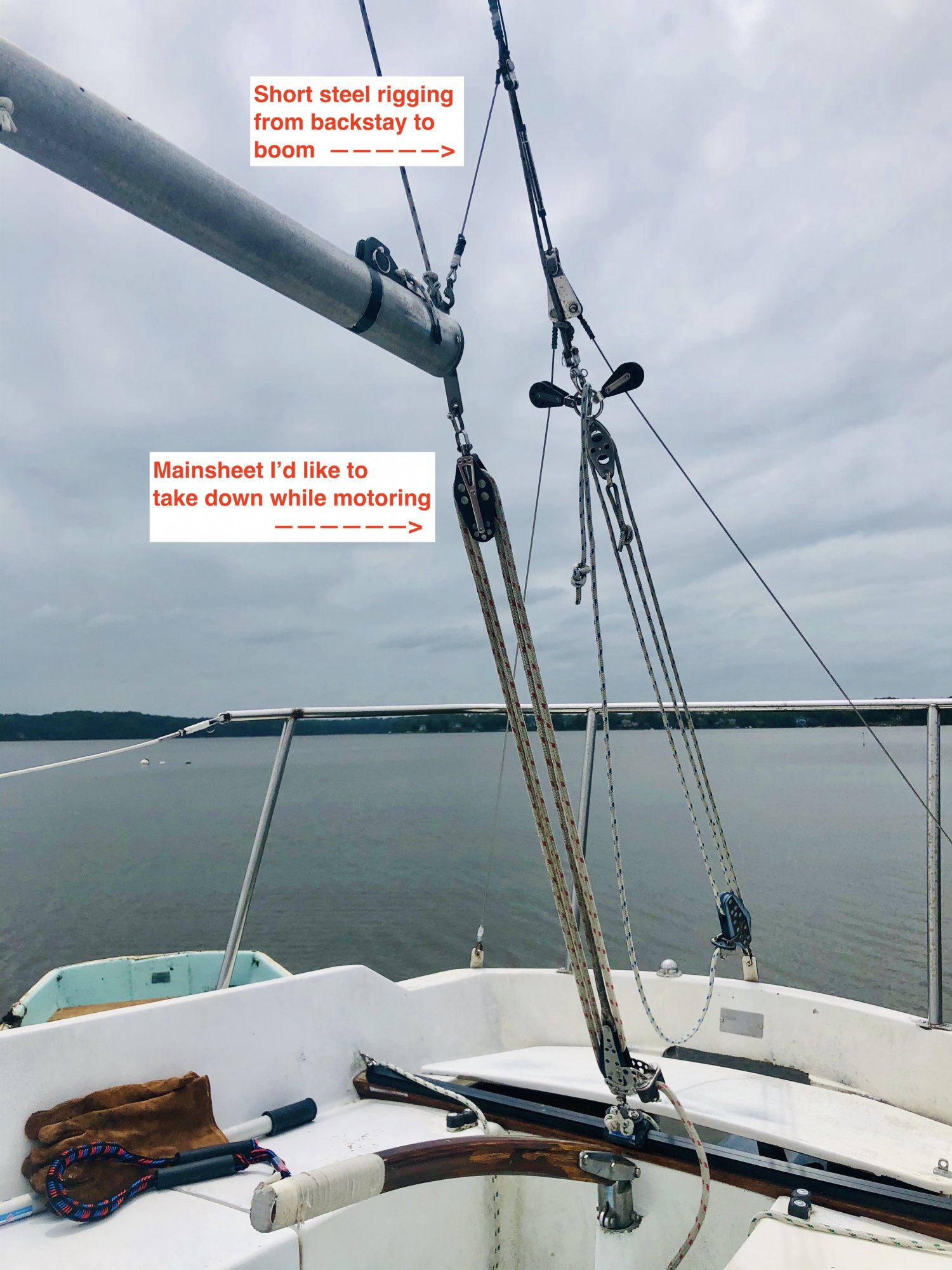 The mainsheet on this boat connects to the boom about 2/3 of the way toward the stern side of the cockpit. So a Bimini is going to bump into that and not be able to cover the latter 1/3 of the stern. So, my question relates to using the Bimini while motoring. Would it be possible to remove/take down the mainsheet during motoring? This would allow that to clear out of the way (vertically) so that my Bimini could go further back toward the stern and cover the cockpit. Bimini would hit right at the back stays.
My thinking is I could set the Bimini up on track slides so that when sailing (mainsheet in use) I could have it at least cover the 2/3 of the cockpit up to where it would hit the mainsheet. But then if I can take the mainsheet down when motoring, I could slide the Bimini back to cover the stern final 1/3 of the cockpit, giving shade to all of the passengers (including the captain).
There IS a short steel line connected from the boom to the backstay on this boat. I assume that comes off while sailing, obviously, but I'm hoping it could keep the Boom held up and in place if I wanted and am able to take the mainsheet down during motoring, for the purpose of moving the Bimini back as described above. I'd need to figure out some kind of quick connect way to get mainsheet off easily for motoring and back on easily for sailing.
Any help would be appreciated! Many thanks