Well I am diving deep into the world of charging systems and have started the acquisition process. Thus far I have secured a Balmar 6 series 150A Alternator, Balmar MC-614 voltage regulator, Balmar Serpentine Pulley kit, Blue Seas ML-ACR 7622, Class T 300A fuse block and fuse, Balmar SG-200 Battery Monitor system.
Next up will be 2/0 cables so that I can run direct from the alternator B+ out directly to the ACR, which will be located within 2' from the house bank (6 x T105's), I am also going to run a 2/0 negative back to the house bank negative bus bar.
Will run a fused 2/0 from the ACR to the house bank and starter battery.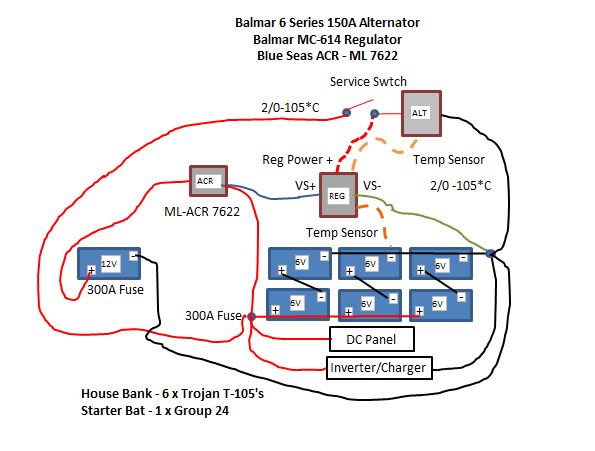 Hope to take a bunch of photographs while applying this change to our stock Hitachi internally regulated alternator and the mystical cole solenoid, this system will reduce voltage drop and allow me to sense voltage at the battery banks which will drive the output of the alternator so I get the proper voltage at the battery bank, this will vastly improve the charge cycle of the bat's and extend their life.
Hopefully will get started tomorrow at least go down and take some measurements for cable lengths and if time allows pull the old alternator off and maybe mount the new pulleys, hoping to also (while I am at the boat) to replace all (7) of the florescent fixture bulbs with LED light strips, another fun project that shouldn't take to long at all.
AND
A big shout out to
@mainesail
for doing all the write ups and putting them out there for anyone who is interested in understanding the nuances of just about anything that needs or could be done to improve marine systems. As busy as Rod is he answers questions emailed to him promptly, you just can't find that kind of service anywhere else, thanks again for your help Rod!
Last edited: