Nov 21, 2012
267
Yamaha 33 Port Ludlow, WA
When I purchased Tosca, I knew that I would have to do some work on the electrical system, The previous owner had already invested heavily in some nice goodies like a new mainsail, chartplotter, radar and instruments, but the survey found some unsavory wiring and to be honest, I was surprised that the insurance company didn't squawk. In retrospect, I think this is typical for a boat this age. At the time I was concerned, but not alarmed.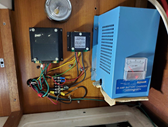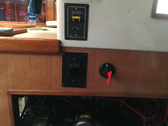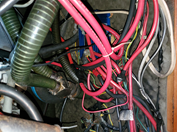 Since they didn't squawk, I focused on the other items called out (and some discovered after the fact) and shelved the electrical work for later.
I got the rig surveyed after the purchase (dumb) and it was deemed to be in poor condition. I had the late, great Brion Toss work up the rigging while I rewired the mast, with new LED steaming/deck light, anchor light and VHF antenna. Oh, and the chainplates were corroded. 4 new chainplates were fabbed and polished. Gah. The aluminum halyard organizer at the base of the mast needed welding and one of the sheave holders was missing. It was a lot of money and after almost 8 months of ownership I still hadn't sailed anywhere. So far, Tosca left me a bit bruised and a lot poorer.
A bit of good news arrived in the inbox last December. I was the lucky winner of a Firefly Group 31 battery on the Cruisers Forum giveaway. Hooray! Wait, Tosca didn't really need new batteries. The owner previous to the one I purchased her from had installed 4 Trojan T-125's in one of the storage compartments. This provided quite a bit of juice, but the boat wasn't designed for that kind of weight and she had a noticeable list to port. Plus the batteries were in no way contained, and I was again surprised that the insurance company didn't raise an objection. Or maybe they were just going to deny the claim later. Who knows what goes on in their evil hearts.
Alas, what Lady Luck giveth, Lady Luck taketh away. Or something to that effect. In January of this year I noticed that the Ample Power battery monitor was no longer monitoring. Ample Power made good gear in their day, and the owner was known for his scientific and fact-based approach to the care and feeding of lead acid batteries. Unfortunately, 8 bells rang for the owner and the company was no long in business. Well OK, time to look into alternatives.
To be continued...
Last edited: