I have a head scratcher. My New to Me 1998 H33.5 (likely not a 333 as stated in prior posts) has an aluminum freshwater tank and pump located under the v-berth, and the tank appears to be resting on a support of some kind an inch or two above the hull. recent inspection, I found a small amount of water that happened to be under the tank discharge and associated pvc piping to the pump (maybe a pint/quart or so?). I figured the pvc piping was leaking at the discharge or between the tank discharge and the pump, located about a foot away from the discharge. I drained the water tank to empty, removed the piping, and began to sort through the piping to check fittings etc. a short time later I noticed the same amount of water had pooled in the same spot. note: there is some type of rib or lateral structure on the hull about 2" tall and maybe 5" wide and maybe 3 or 4 feet in length across the width of hull (at that point). There is not a line or hole there to allow drainage to the bilge, so the water collects at that low spot. it is clear water.
having no water in the tank to leak, where is this water coming from?
I wet vacuumed to remove the water a couple of times and after about 30 minutes the same volume returns- not much, 2 or 3 cup fulls.
I am not aware of any water being in the anchor locker.
would this be -- "hold my breath" -- a pinhole in the hull? please say it ain't so!
the interesting part is the same volume of water recurs after I wet-vac the water and wipe hull to dry. over maybe 30 minutes a very, very small amount seems to seep from somewhere under the tank (checked with a flashlight and mirror and see there is a wet spot on hull under the "empty" water tank). The "seep" drains to the low spot, the small volume, and then apparently stops.
what are your ideas for a source for this water ? what should I check? And why would a similar volume of water return?
pictures attached for reference. the tank is maybe 2" forward of the "rib" and the pump is resting on what I am referring to as a rib.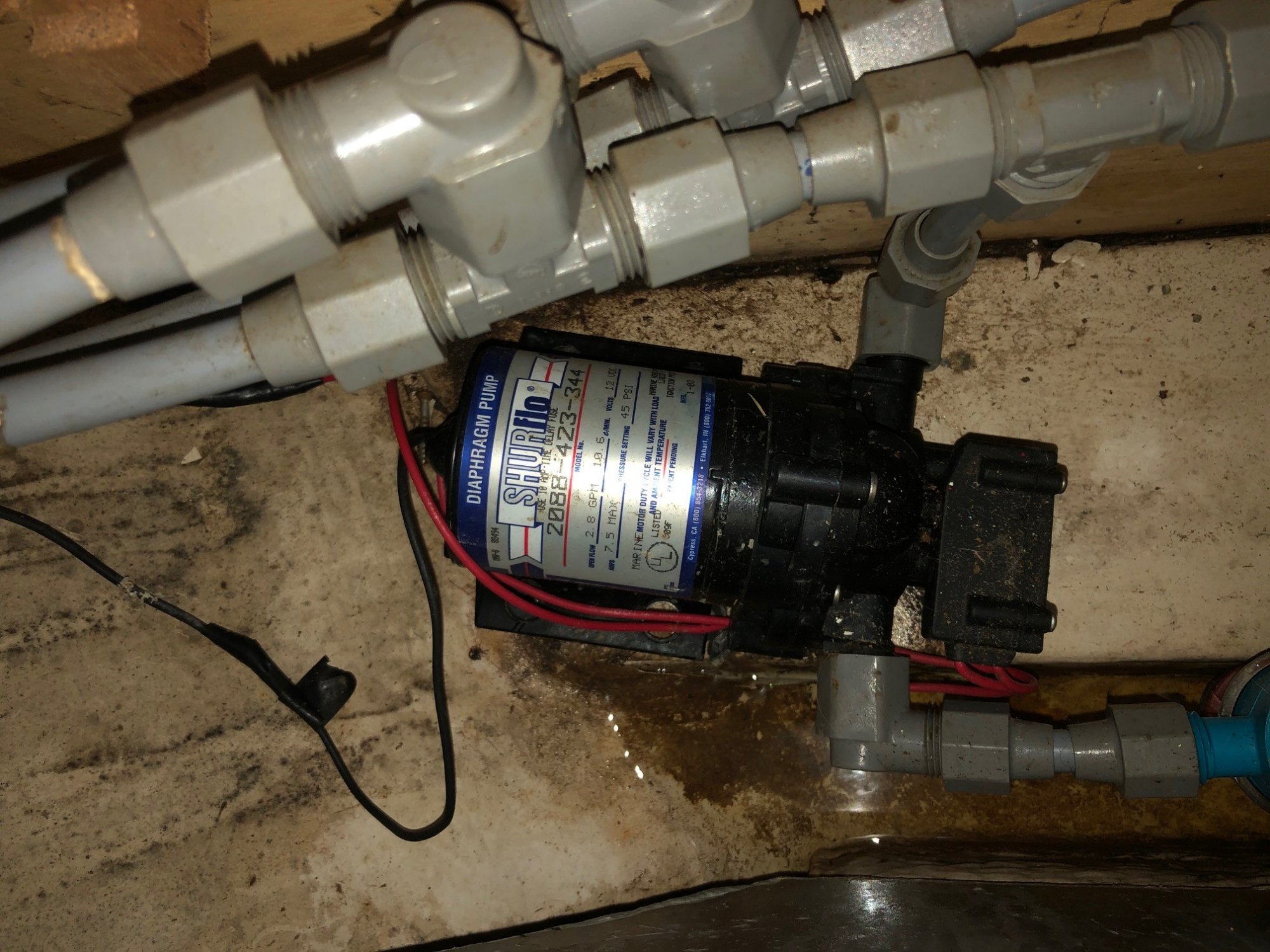 forward of the "rib"