May 8, 2013
553
Hunter 40 Dataw Island, SC
Hi guys,
My 1986 Hunter 40 Legend took some damage (possible understatement!) from Hurricane Matthew. a couple of holes in the side, some damage to the bow, and the interior was ruined from a partial submerging. This will be a long running thread showing repairs to get her back in the water and in better shape than ever.
A little history: I bought the boat in 2004, was a live-aboard in Miami for a few years before moving to Beaufort, SC (ironically I picked this area due to its lower hurricane threat level!). I've been doing upgrades to the boat for years including a redesigned interior and pretty much new everything over the years.
I'll start with a short summary of pre-Matthew prep, post-storm discovery and recovery, damage assessment and repairs to date, then repairs and upgrades as I do them.
Hurricane Prep:
One of the supposed benefits of the marina I am at is it's the only marina in town with a boat yard. So the storm plan has always been to haul when necessary. Didn't work this time though for several reasons. Matthew meandered around the Carribean for quite a while before heading north and until the Tuesday before it looked to miss us. The haulout plan got complicated quickly due to two factors: The mid-day tide was a low tide and sailboats can't get into the slipway for the travellift at low tide, so sailboats got the short straw. Also, we had several days of persistent northerly winds at 20 to 30, right angle to slipway entry as well.
The marina crew moved heaven and earth, got a bunch of boats out but when the evacuation was called for Wednesday, all haulouts stopped. I was on the list for Thursday. Rats! Anchoring out (my second choice) when out the window with the weather we had too. That left staying in the marina - me and 30 other boats. I decided to move from my normal slip (good choice, all the boats around that slip were destroyed) and tied up on the inside face dock.
Tripled up the lines, pulled the head sail and all the canvas. As a final idea, I deployed both anchors towards the shore line, the idea being that if the docks came apart, maybe I could break free and swing to shore, away from the docks. This actually worked in a way since I convinced the two sailboats in front of me to do the same. They survived and landed in the mud (more on why it didn't work for me in the next installment).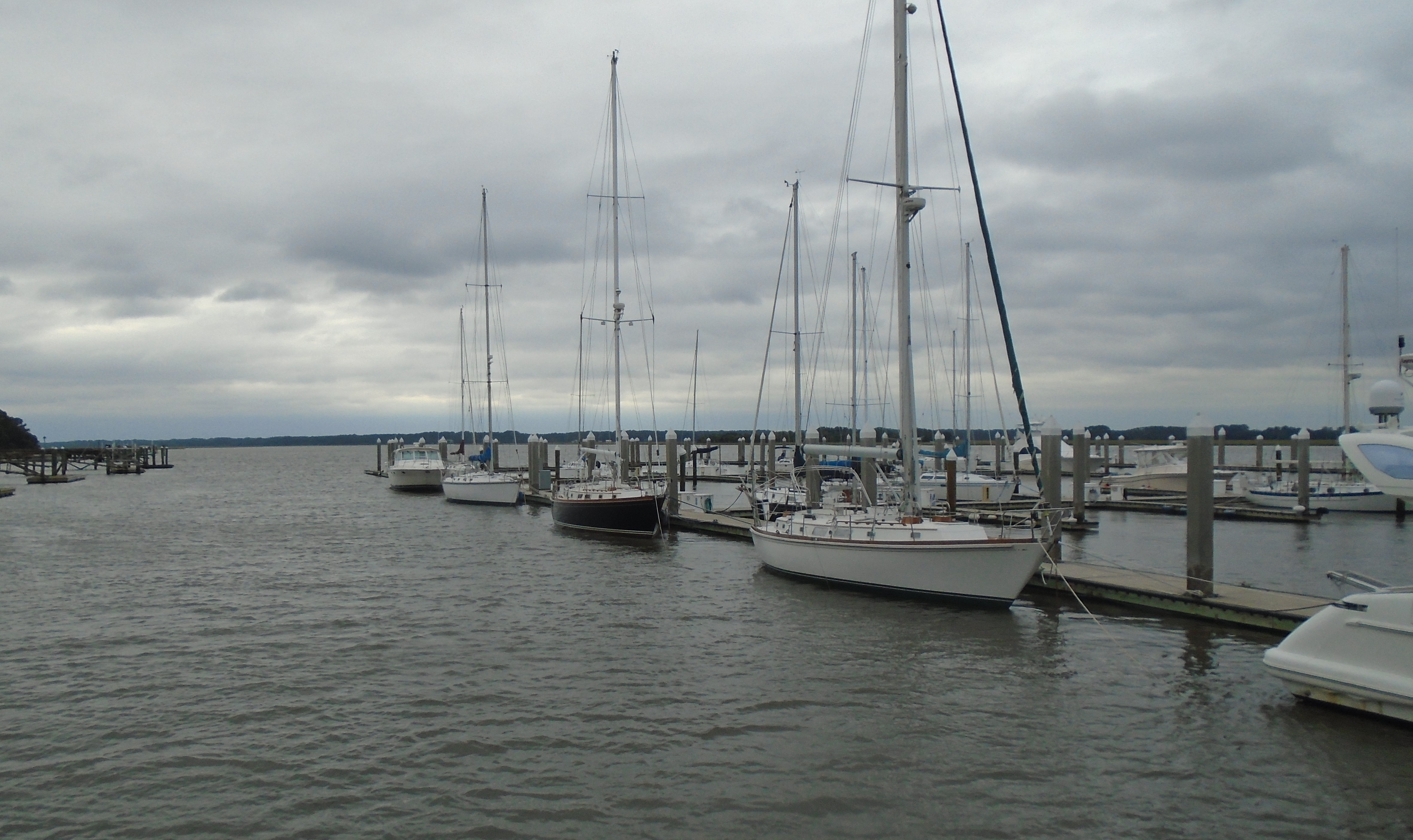 So the boat is prepped and I got the house, the wife and kittycats ready for the storm.
Next chapter: Hurricane Matthew
Cheers,
Mark
Last edited: