Jun 22, 2004
1,847
Alden 38' Challenger yawl Rockport Harbor
to be designated an historic sailing preserve.
This natural winding waterway through the vast island center of Penobscot Bay on the coast of Maine, has historic sailing significance. A convenient waterway of sailing commerce and fishing for centuries, it's still a working waterway today.
What's needed is the preservation and promotion of the art and craft of sail that is on display in the Thoroughfare, for future generations to enjoy.
Who sails the Thoroughfare today? Sailors. Schooners, local boats - big and small, that are familiar with the waterway, sail it often. Many (like us), come here primarily to sail through the Thoroughfare. You'll sometimes see the same boats pass in both directions, in the same afternoon.
Winds are flukey inside the Thoroughfare, funneling over tree tops. Traffic can be heavy (there's regular ferry service), lobster boats may be pulling traps - there are rocks to avoid. And it's narrow in spots.
Yes - it's challenging and glorious. Sailing through this picture post card; a sail on the Fox Island Thoroughfare is never, ever, the same.
A favorite place to watch (and photograph), are the J.O.Brown moorings in the middle of North Haven village. Last weekend, after sailing through ourselves, we spent a few hours enjoying this sailing spectacle on the water.
Here's are just a few photos:
Traffic was heavy in the afternoon. This Bristol 35.5 was on the East to West path. He had a reef, he's been here before.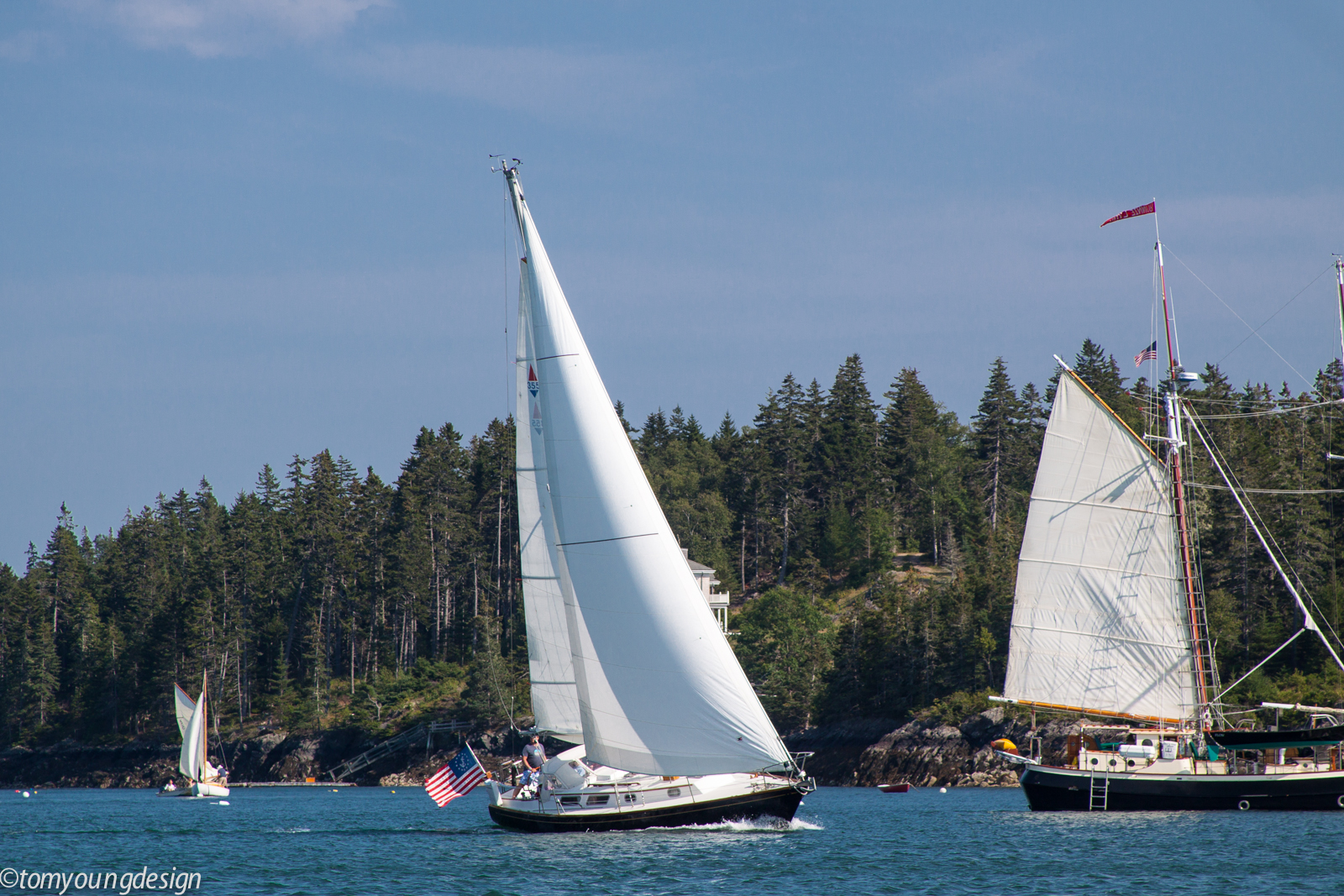 Wind you can't always feel, grabs your mast top and with the leverage of a pry bar, your boat goes over. He's steady as the Bristol catches up to a motorboat.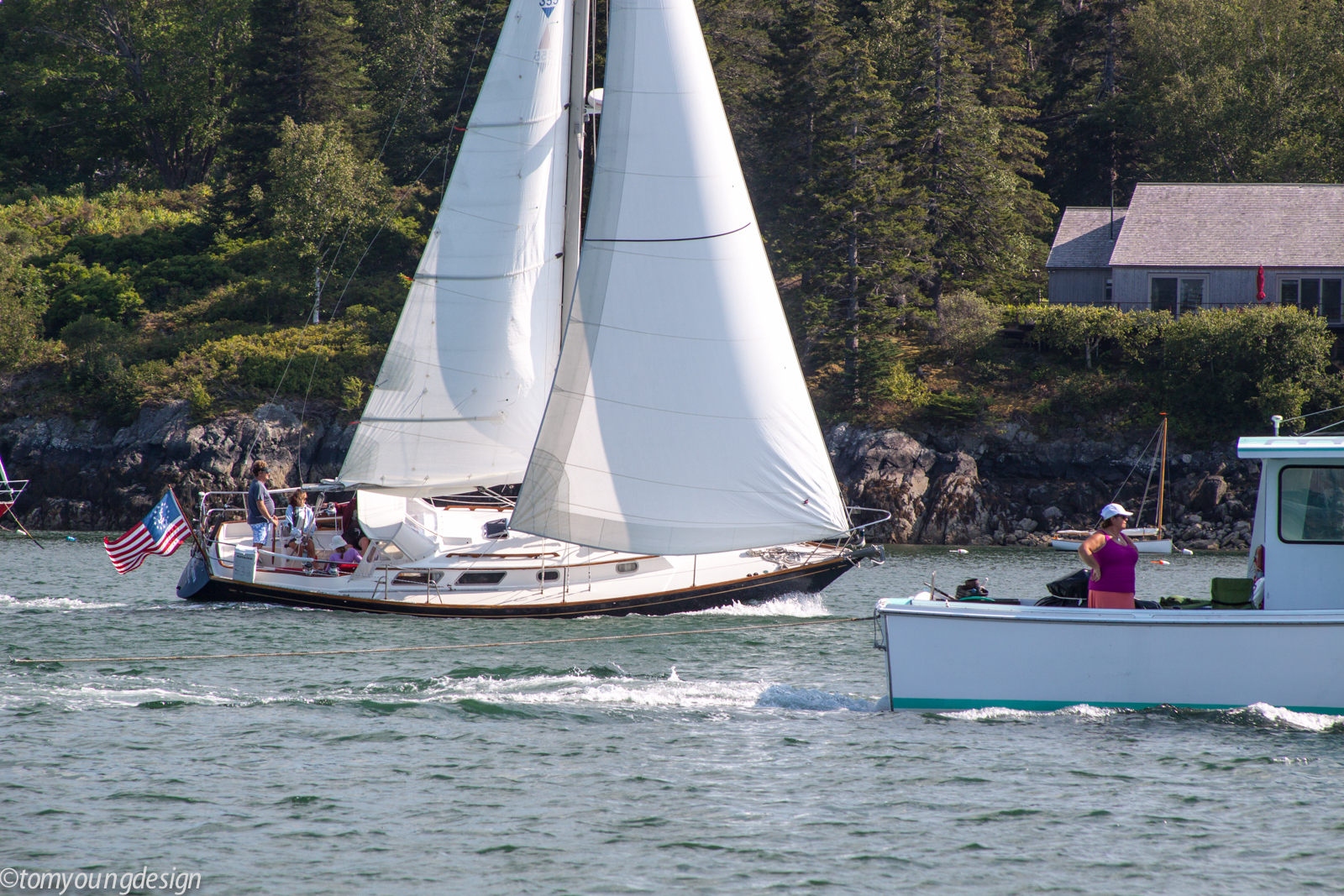 These two boats were fun to watch. They've just sailed through a typical 'hole' in the wind and have seen the masts ahead bend to a big gust. They're ready. They've been here before.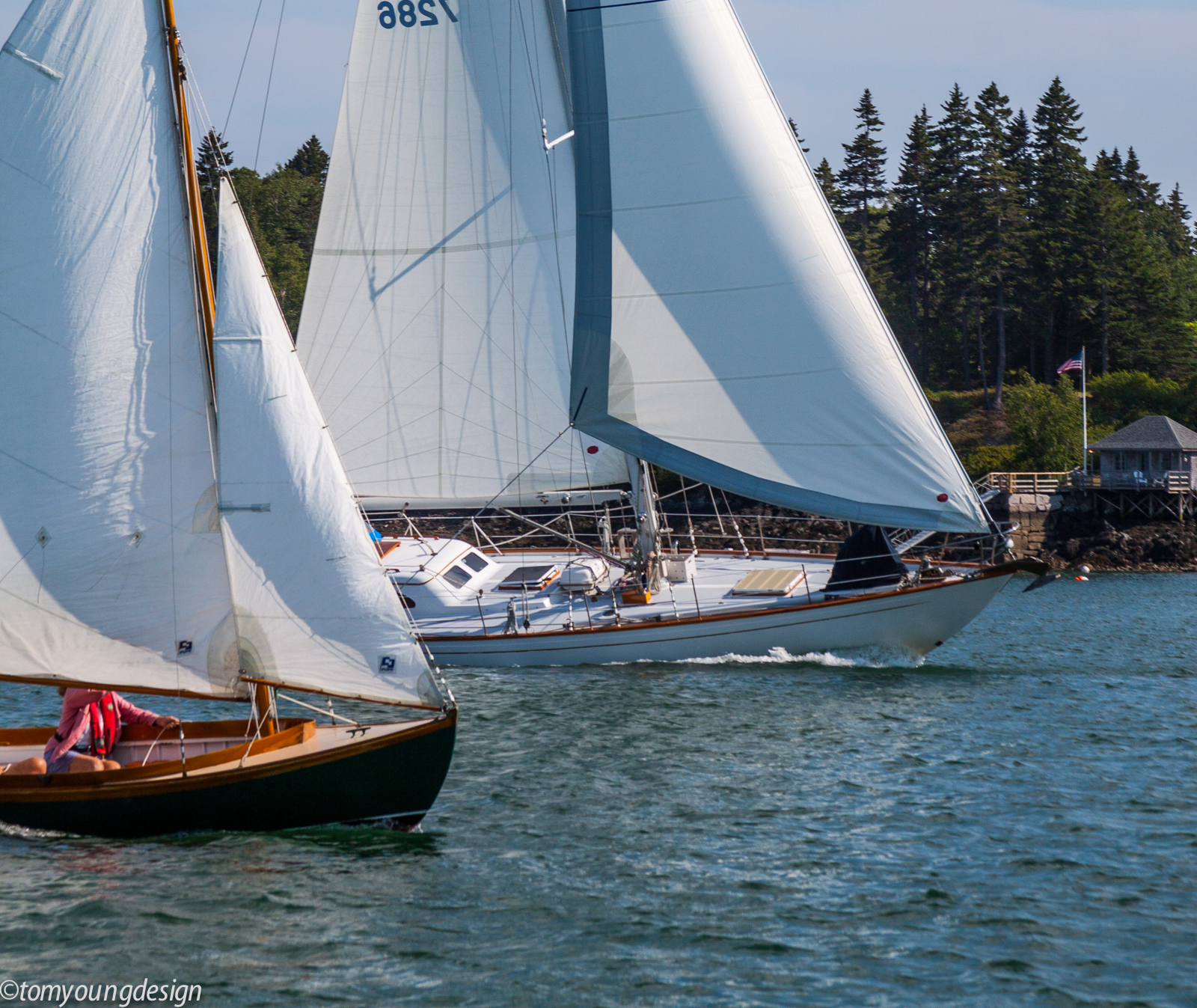 Now they're feeling the power and keep a sharp watch ahead.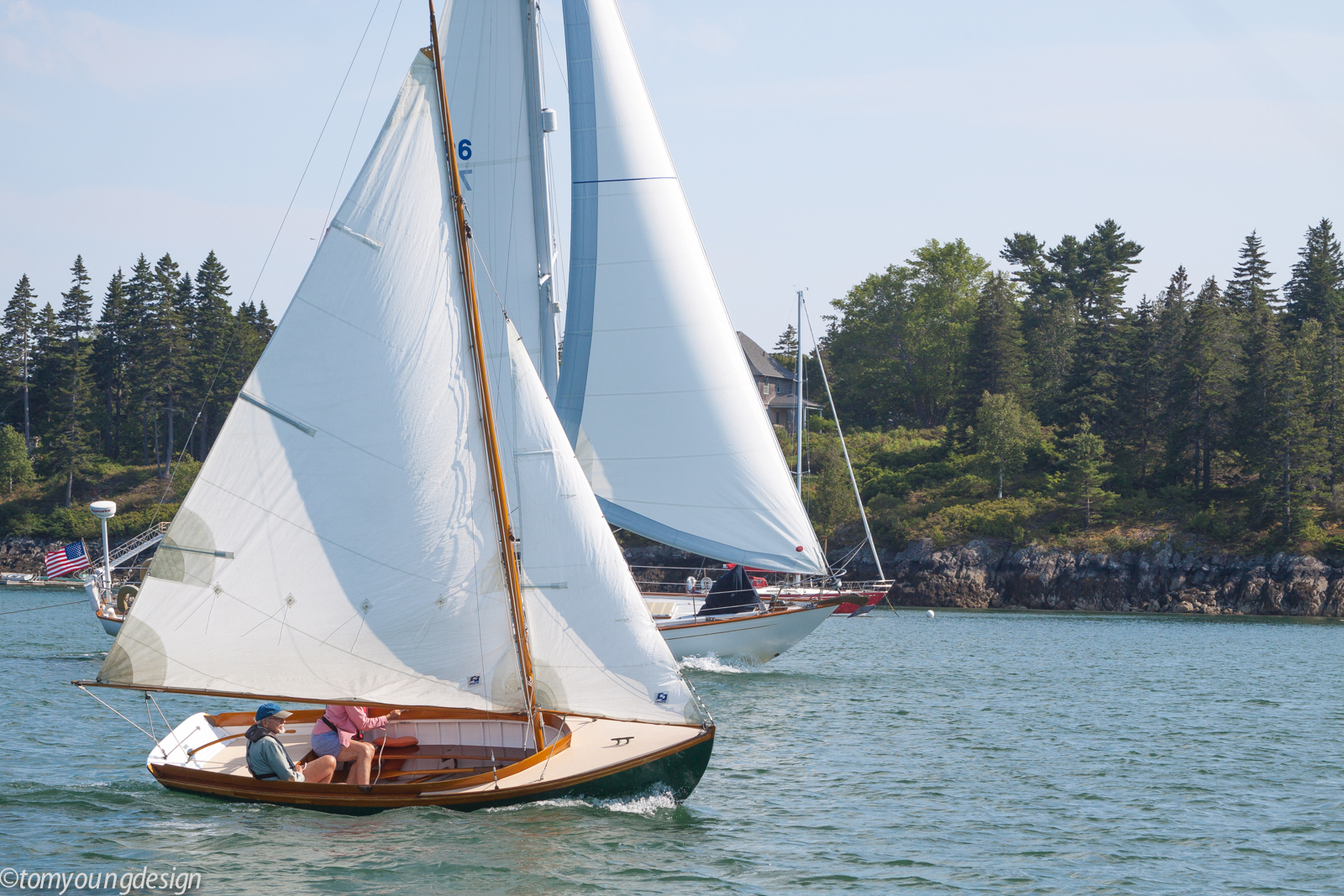 It's probably an illusion, but it looks like the H 12 1/2 (called a Fox Eye around here), passes the bigger boat. Nah,...
A Morris Daysailer does what it was designed to do, take a bunch of people out on the water for a memorable sail.
This North Haven dinghy was one of my favorites. A difficult slender dinghy with no ballasted keel, was roaring along under a big, nicely shaped sail. She's been here before.
Things were much quieter on Sunday morning. This lone boat sailed out of Perry Creek on a light (and unusual) Northerly wind.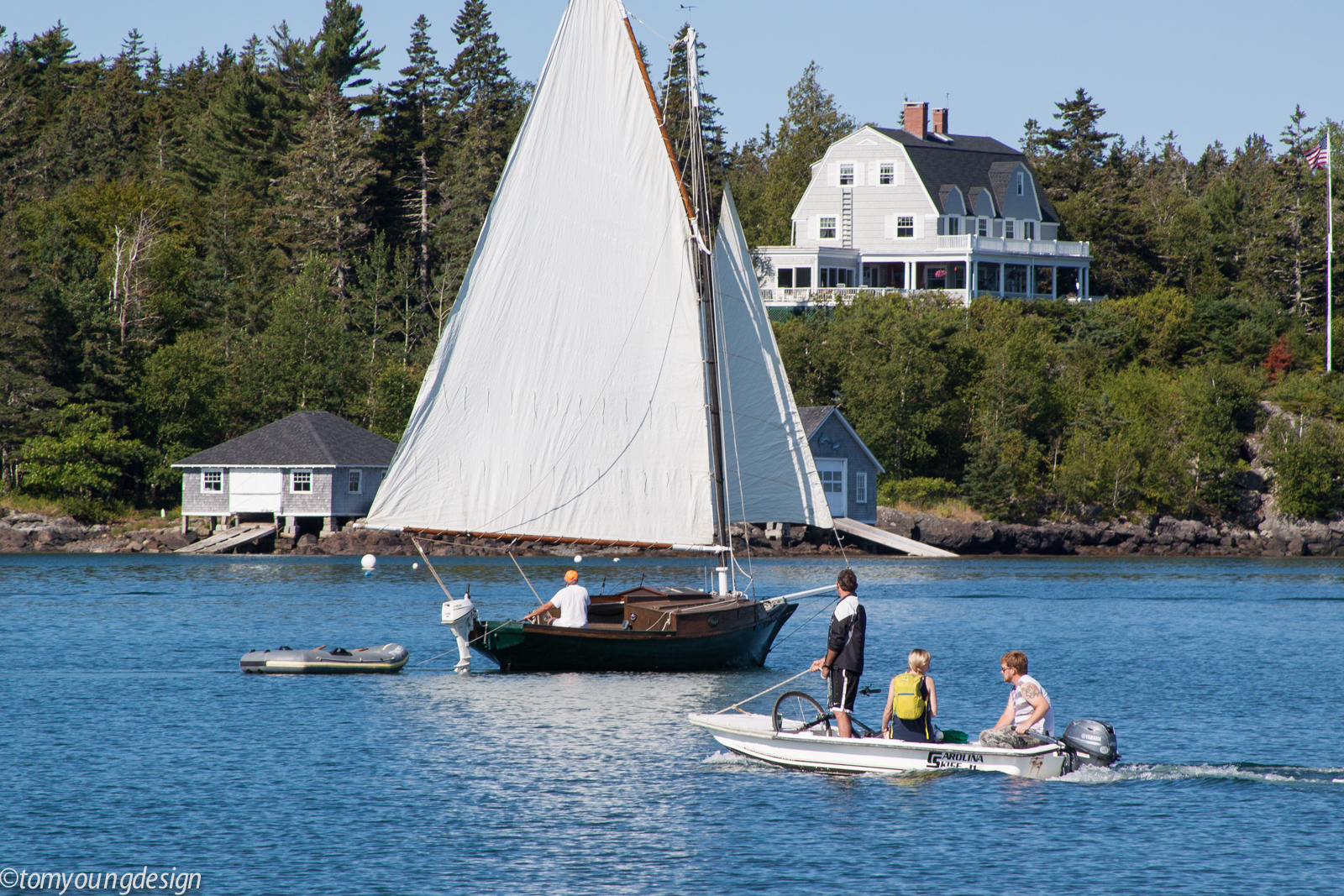 His slow speed was perfect for enjoying the morning on the water. I watched gulls coast overhead as he easily threaded a field of buoys that looked like candy Jimmies on blue ice cream. He could have powered through - like the power boat - but he's done this before.
I watched his sail disappear into the bay.