Jun 22, 2004
2,023
Alden 38' Challenger yawl Rockport Harbor
It's a calm night with little wind in the tranquil harbor. I was just about to go into the vee-berth and open a good book when I saw distant running lights approaching. Not alerted by the typical engine rumble, curiously, I watched the tiny red and green lights through a port.
A thin flashlight beam from onboard the approaching boat briefly back lit its sails. Some one is sailing into Pulpit Harbor in this pitch black night.
The approaching running lights were steady, as they would be on a lightly heeled sailboat . Closer and closer it came. Then I could just hear the boat, the faint gentle sound of it's bow parting the glassy surface.
The bow lights grew closer and closer, then suddenly a mirage like white hull and sails ghosts close by our stern. The soft sound of the hulls motion through the water is clear now. What a unique sound, sailing in the darkness.
Then the sound falls off as it passes by and except for the small white stern bulb glowing, the boat is out of sight once more. I held my head out of the companionway so my ears could follow the boat deep into the harbor, fading,… fading,… then all went silent again.
I couldn't get any photos in the darkness, so you'll have to use your imagination. But here is the same boat, a 1950's Sparkman and Stevens Loki Yawl, sailing the same route out of the harbor, the next morning.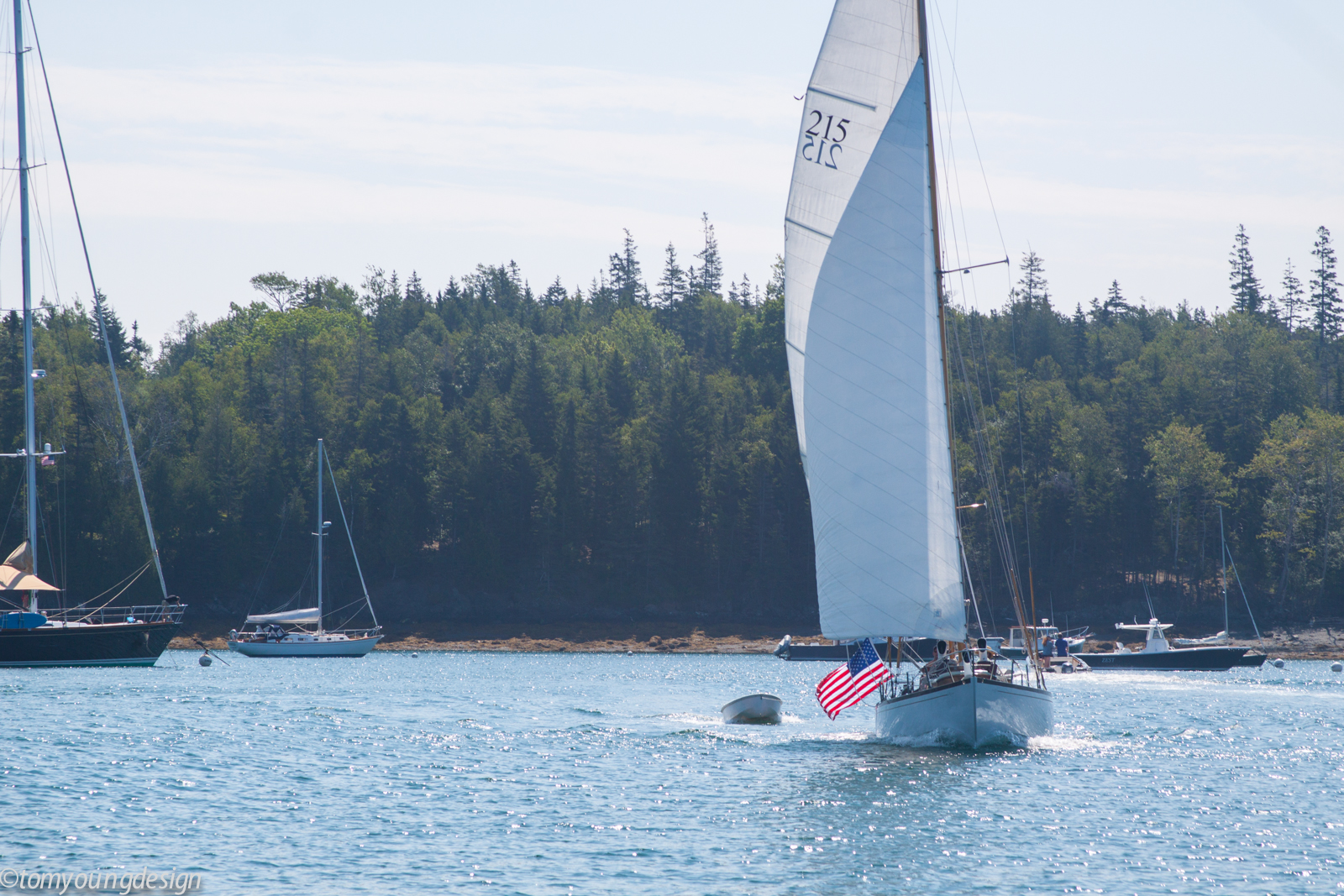 We sailed in an onto an anchor ourselves, but that was broad daylight!
Once again, they pass close by our stern.
And on their way. Another boat motor sailing out, slowed down to let them pass.
And they are back out on the bay. I like to set - trim and douse sails in the protection of the harbor (the lighter winds inside), sail on and off the anchor/mooring, when conditions are good for it. I think it's easier.
But mostly, I do it for the joy of it. I love watching other people share that joy.