Nov 8, 2010
11,385
Beneteau First 36.7 & 260 Minneapolis MN & Bayfield WI
Last week a WYC buddy asked if I'd crew on the Hook race, a 190 mile race from Racine Wisconsin around the Door County peninsula to Menominee Michigan. As the only distance race this year on Lake Michigan or Superior, I said 'Hell yes!'
We'd be part of a pick-up crew racing a Tartan 10, a 33 foot racer that is popular in the great lakes. Indeed, with the Mac race canceled there was going to be 10 of them in the 100 boat Hook fleet.
The race was last weekend and was on T10 (actually an LS10) Winnebago with a crew of 5. Weather was predicted to blow hard from the south for days, but due to heat thunderstorms were predicted. Started in perfect conditions; S12 knots and sunny and hot. We were far enough ahead (early sequence start and we got away well) to be on the north side of Milwaukee when the first storm hit there, forming over the city and them coming over the water.
We could see wipeouts and all manner of disaster behind us (5 dis-mastings) as storm decimated the fleet and then the wind came north to us. We were leading the race with another T10 and played a game of chicken with them as to who could leave the kite up longest. Hard to take it down, as we were flying (OK T10 flying) in the 30 knots and following seas. We blinked as the breeze built to over 35, and they dropped 2 minutes later. We beat our spin speed max (12.5) under jib and main (13.5) while the storm blew through.
Bit of a lull in lumpy seas after the storm passed, good time to break out the grill for dinner. Pressure back on and we clicked off the miles under spin and a starry sky. Around Sheboygan the sky started to darken and we could see but not hear lightning everywhere. But we were flying at 10+ knots so all good, press on. Then we could hear the thunder, and the rain started. Kept the kite up as long as it seems sane, and lucked out and dropped it just before the crap started to hit the fan. Driving rain and 45 knots of wind, so manageable and still making good VMG. 45 minutes of this and a tiny bit of a lull, so we gamble and put up the jib. On queue, it then gets absolutely atrocious, continuous lighting and 65 knots of building breeze. We tear down the jib and sail under full main in basically survival mode. Wind clocks through every direction as the storm rotates above us. 15.5 knots of max boat speed but not sure in what direction.
Finally it gets less crazy, and we can turn towards the turning point at Porte du Morte, about 30nm due north. Another lull at dawn, some rain, and life is feeling pretty crappy. But then it fills in from the west, and we close reach to the turning mark, a USCG buoy that amazingly wasn't there. Through the Porte and it looks like a champagne sail into the M&M YC, but christ there is another T10 200 yards behind us, and we dual fangs out the 40NM all the way to the finish.
7th overall. Got 1 hour of actual sleep. Drove 75% of the race, doing that unless I needed to do foredeck to jibe the pole, not sure how I got that job. Great times!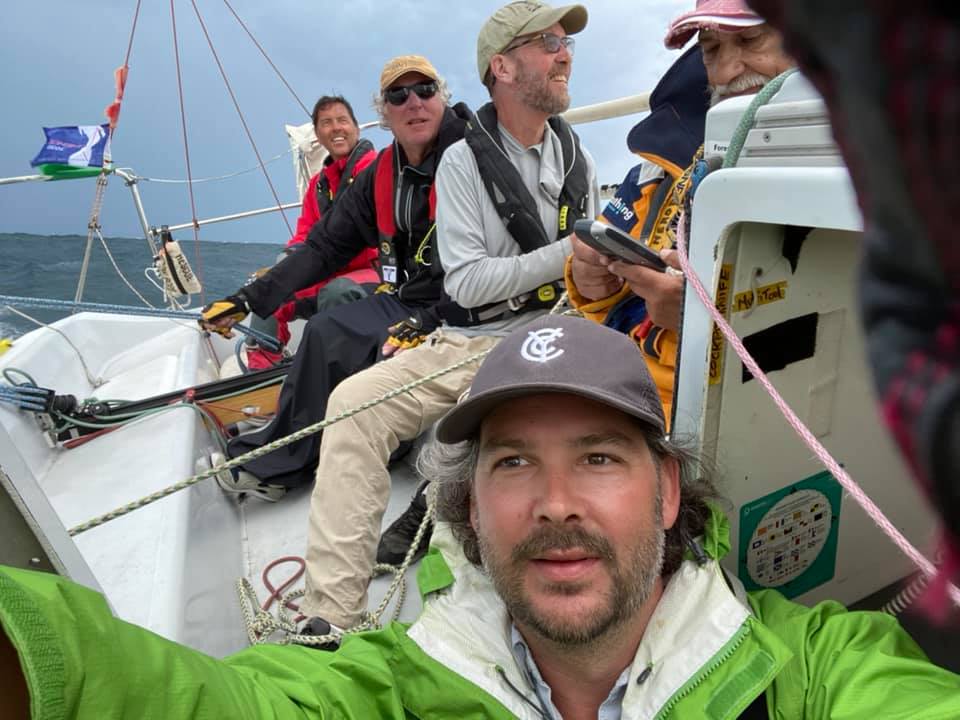 Last edited: