Lately there have been a number of questions, on this and other forums, about battery bank fuse sizing and I wanted to give a brief explanation of how I size these fuses.
Simply put you size the fuse to the wire provided your wire is sufficiently sized.


#1 The standard.
The ABYC requirement is for a battery bank fuse to be within 7 wire inches of the battery bank. This is often hard to do, and if you can't, then as close as possible would be the next best thing.
If you're having trouble meeting the 7" rule then the Blue Sea MRBF fuses are excellent but they do add nearly 2" in height to a battery post to measure your battery compartment height carefully. The limiting factor with MRBF fuses is that they only go to 300A so on bigger engines you may need a Class T or ANL.
Blue Sea Marine Rated Battery Fuse and Holder
The Actual Fuse & Holder (this one is a double MRBF):


#2 Exceptions to the rule.
The ABYC has an "exception" to this rule for cranking motor batteries. This exception however is more broad based and written to include for large engines which have massive amounts of starting current being drawn. These engines are very expensive to fuse properly hence the "exception".. Think big sport fishing boats and our engines are about as far away from that as can be... Small diesel or gas AUX engines on sailboats would be best served fused than unprotected.
I quote our good friend Nigel Calder here:
"The net result is that nowadays, electrical shorts are probably the number-one cause of fires on boats."

There is simply no excuse for not protecting all high-current circuits , including the cranking circuit."
Nigel Calder Cruising Handbook


#3 What exactly am I protecting?
Over current protection (OCP) or over current protection devices (OCPD's) are sized to protect the wire not the devices they are powering. This is often misunderstood. You can always go smaller with OCP, than the wires ampacity rating, but
ideally
should not exceed the ampacity rating. The OCPD is there to prevent the wire from overheating, melting and starting a fire. In a dead short, what you are protecing agianst, the fuses will still protect wires well beyond the 100% or 150% ampacity rating, but I am not suggesting you do this.


#4 What if my engine draws more than the ampacity limit the wiring is rated for?
This is NOT uncommon. Many builders undersized starting wire for many years and got away with it due to the short duration of starting circuits. Today most have come up closer to where they should be. A good example is the Universal M-25 as shipped on Catalina's.
Catalina used to ship the M-25's with 4GA wire. They now ship that same engine with 2/0 gauge wire. That is a HUGE difference. If you have small gauge wire an upgrade to larger wire can be a very good investment and your engine will start a lot quicker and the starter will see a lot less voltage drop. Nearly every sailboat I went aboard during the last boat show was using 1GA or larger wire with 1/0 and 2/0 being the most popular in boats over 30'..



#5 Won't the starters inrush current blow my fuse?
First, what exactly is "
inrush current
"? Inrush current is the very brief spike in current that the starter undergoes to get the motor to begin turning over from a stopped state. The inrush duration is usually about 50mS to 250mS long and not long enough to blow a properly sized ANL, MRBF or CLass T fuse. FUSES ARE NOT SIZED FOR INRUSH but the proper type of fuse must be used. Fuse are sized to the wire they are protecting..
This video below shows the inrush as captured by a Fluke 376 meter. While this is not the fastest meter, 100mS capture rate, it gives a better guide than just about any other clamp type DC meter out there. The engine is an older 2QM20 Yanmar. The peak current draw, perhaps 2/10th of a second, is 316 amps yet this motor is protected by a fuse rated well below the inrush. It has never blown nor will at this inrush capacity. The "average starter" load during the duration is closer to 150A - 200A. This engine has a 250A ANL fuse and has started successfully 1000 times or more since this fuse was installed..


#6 If the starter can draw more than the fuse rating then why doesn't it blow?
Contrary to popular belief ANL, Class T or marine rated battery fuses (MRBF's) do not blow or trip at face value unless the duration is long enough.
As you can see below a 200A ANL can support 500% of it's rating for about .7 seconds, longer than average inrush by more than double. It can support over 300% for 1 second and 200% for as long as 5 seconds. You can push 150% through for up to 500 seconds.
Even if you figured an inrush that, by freak chance, lasted for 1 second, which ideally should not happen, a 200 amp ANL can supply 600A which is almost double what the peak inrush is for the 2QM20 in the video above so in that scenario you'd still be fine.
Just as a point of reference a 1987 Universal M-25, with a 600Ah bank of fully charged AGM batteries, wired with 2/0 wire, draws roughly 250A +/- in-rush on an 80F day. This is the in-rush load though. All engines are slightly different as are batteries and wiring.. Some draw more and some draw less but the in-rush is still a very short duration on all of them.
None of this changes the fact that you are still protecting the battery cable with the fuse and not the battery or other systems. The fuse is still sized to protect the battery cable and this in-rush data is simply a reference point..

200 AMP ANL Seconds vs. Amps
.7 Seconds =1000A
1 Second = 600A
5 Seconds = 400A
500 Seconds =300A
Image courtesy Blue Sea Systems
#7 What type of over current protection for my bank/banks?
Generally speaking larger banks should be protected with ANL, CLASS T or MRBF fuses which are available from Blue Sea and others. They should however be "Ignition Protected" fuses and Blue Sea is the only one I know of offering ANL fuses with ignition or spark protection for ANL's. No Class T fuses are ignition protected but they do have an AIC rating of 20,000 amps for DC, so the possibility of blowing one open, to create a spark, would be extremely rare even with a Lithium bank.
These fuses have AIC (amperage interrupt current) ratings that will work with decent sized banks. If you have a large bank of Odyssey or LiIon batteries then a Class T would be best as the AIC rating of Class T fuses is nearly 20,000 amps.
The concern with AIC is that some breakers can literally weld shut before tripping, if the bank has enough amps behind it. For decent sized battery banks you ideally want an AIC rated fuse or breaker of 5000A AIC or greater. AIC is a greater concern for breakers but fuses are also AIC rated and can fail dangerously when subjected to shorting amperage greater than their AIC rating. The actual ABYC requirement for batteries is that any bank over 1100 CCA needs 5000 AIC rated protection or greater. Even two parallel group 27 batteries can supply more than 1100 cold cranking amps...
Be aware that not all fuses are created equal. Quality fuses must be chosen and Blue Sea is


#8 How do I determine my wires ampacity rating?
Below is Table VI from the ABYC E-11 Electrical Standard. It is for single conductor wires not bundled together and organized by jacket temperature rating. UL1426 Marine Wire is all 105C rated. Manufacturers like Pacer, Ancor, Berkshire, Cobra and others all build marine battery cable to UL1426 standards and most any chandlery will have it, as does Sailboatowners.com your gracious hosts!
The ABYC does allow you to go to 150% of the Table VI ampacity rating, if necessary, but if you do this always round down to the next size fuse rather than up. My personal preference is to size the wire correctly so that use of the "150% rule" is not necessary.
Data courtesy ABYC: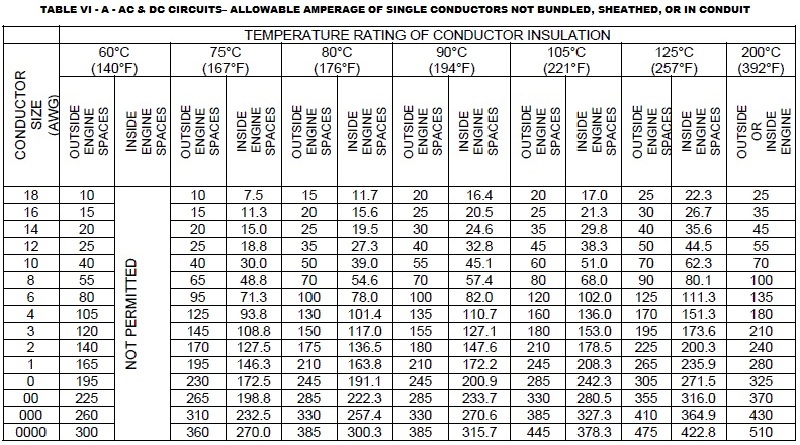 So, if you were using 2/0 wire and it was outside the engine space then you could use a fuse up to 330A @ 100% of the ampacity rating.
If you needed to go bigger with your fusing you could use the 150% rule and use 330A X 150% = 495A fuse, or rounded down to the next commercially available size.
#9 What do manufacturers suggest?
Here are some minimum manufacturer suggestions for battery/starter cable from Westerbeke & Universal.
Universal / Westerbeke BATTERY CABLE REQUIREMENTS
(wire length round trip)
2GA = 8'
1GA = 10'
1/0 = 14'
2/0 = 18'
3/0 = 22'
4/0 = 28'
It does not take much to have 10' of wire length even with batteries just a few feet from the engine. remember these numbers are wire lengths along the conductor not the "as the crow flies" distance
This Vessel is Protected With A 300A ANL Fuse:
This is another prime example of "inrush" vs. average starting current and what will blow the fuse and what will not. In this screen capture we can see that the starter drew slightly over 640A peak inrush:
In this screen we can see the "average" starting load was 286A. It should be noted this was on a day when the air temp was 20F and the batteries in the bilge at 32F so these currents were slightly higher than they normally would be on a sailboat. This engine also starts in 0.76 seconds as evidenced by the "TIME 765mS". If you look back at the trip delay curves you'll see why the 300A ANL fuse has never blown despite well over 750+ starts on this engine since the installation..
For most small sailboat aux engines a 250A to 300A fuse should be used, if the battery bank could ever be called upon to start the motor. This size fuse will avoid nuisance trips and start just about any Universal, Westerbeke, Yanmar, Beta and other sailboat AUX engines with ease. If your battery cabling is small this may mean using the 150% rule. As a bare minimum for a small diesel I would advise a 200A fuse. Below 200A and you begin to get into nuisance-trip range during starting episodes...