Jun 2, 2014
375
Catalina 30 mkII - 1987 Alamitos Bay Marina, LB, CA
Hey All,
Ran into a situation I wanted to ponder with your thoughts.
Several years ago, I rewired my boat like this with a battery combiner: (
Combiner 100 Sheet
)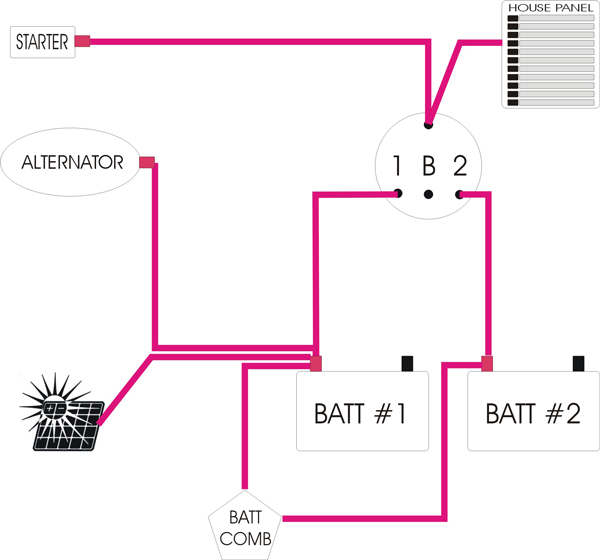 My batteries were starting to get a little tired recently, so I replaced #1 first since it was the most "worn" and I would replace #2 a few weeks or so later. In the meantime, I took a 6 day trip to the island, and on my way home, I found that #2 was super low. I realized later that I had connected the "memory" power for the car/marine stereo directly to #2, and if you know anything about how car radios work, that (yellow) memory wire is actually the main power connection, not the red one. So, I realized that this whole time I've been running down battery #2 with my stereo when I thought I was only using the house bank. It wouldn't normally be a big deal, because they should both charge back up with I run the engine or plug into shore power. That's where things got weird. When I returned to the slip, I just plugged in my shore power/charger. But I noticed that Batt #2 wasn't charging, the battery combiner was in "overload" and battery #2 measured less than 10V.
I understand that a battery measuring less than 10V is probably damaged or has bad cells, but i was surprised, as up to now that battery had always been able to start the engine when bank #1 was low. And, aside from the stereo that I just now realized was always connected to it, I never used battery #2 for any house duty. It was strictly supposed to be a reserve battery.
Sorry for the long story. My question is really about the combiners and battery maintenance. I didn't know #2 was low, and since the combiner was not letting it charge (overload condition), did batt #2 get messed up because I was constantly drawing it down and then combiner wasn't charging it?
Is this a problem with using the combiner or just a problem that the battery went bad?
Can I run into this situation accidentally if I have two "good" batteries? (I've since fixed the stereo memory wire)
Am I asking the right questions?
Last edited: