Oct 22, 2014
15,863
CAL 35 Cruiser moored EVERETT WA
Out on the water with
@LeslieTroyer
and his wife. Looking to get a little water time aboard Mahalo amid home task schedule, like Les remodeling a bathroom under the guidance of his daughter. A brave man to take that job on.
AM track paces us as we head south down Possession Sound.
Poulsbo will be our first port of call. The overcast sky's weeped as a 6-7 knot SW breeze moved us silently with the current at 3.5 knots.
Breezes die as the wind begins to clock around to the North. We fired up the iron genny pushing the current out of our way. Poulsbo calls us.
As we wind our way through Agate Passage into Liberty Bay we are reminded that there is a landing strip. A 2 passenger float plane buzzes overhead going to beat us to Poulsbo.
Arrival. Tied up and night fees paid time to explore the town.
Sun separates the overcast and a cup of coffee "Velkommen's til Poulsbo" at the Viking Brew.
The marine consignment shop 'Longship Marine' is across the street and it shouts "I have treasures you need to see!"
An electric home built for 2 on a trailer. A bit narrow abeam. Usage might be limited to bird watching in what was once known as Dog Fish Bay.
A Barient winch well broken in, yet serviceable.
Nothing calls my wallet from my pocket so I head across the street to check out the marine museum. Closed on Tuesday drat. Evidence of the museum's activities during Covid is on display. They have completed the refurbishing of the Hyak pilot house.
The Hyak was considered the most beautiful of the "mosquito fleet" steamers. She ferried residents of the Poulsbo area to Seattle twice a day.​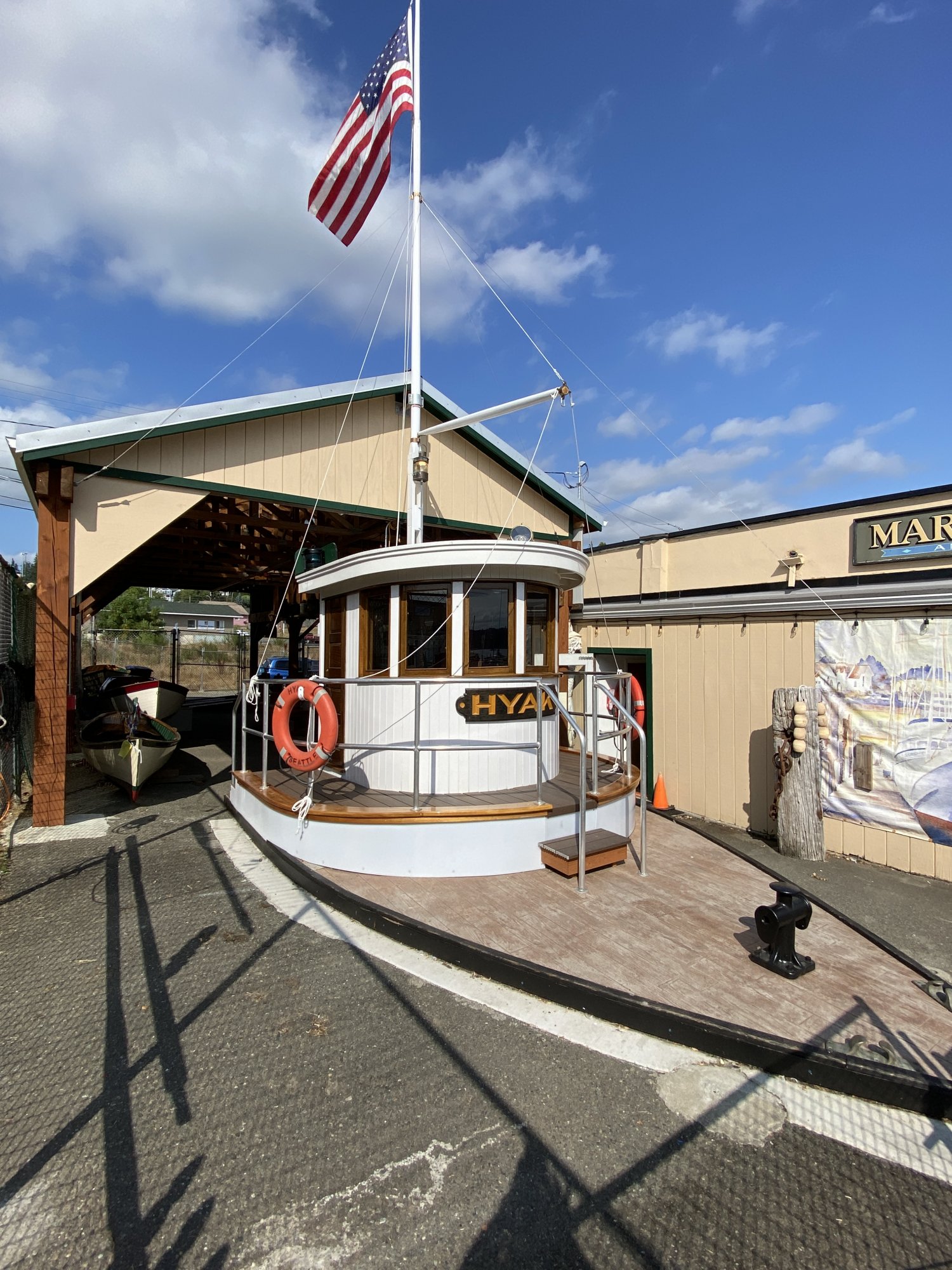 The one problem we discovered about visiting a community after Covid, the days of restaurant service have changed. Only 3 of the food establishments were open limiting our options for a Tuesday night ashore meal. But we are adventurers and having searched the town street by street, discovered the Slippery Pig. We enjoyed good food, beer and friendship. The essential cruising experience.