Had some trouble with our Simrad HS35 wireless handset that goes with our RS35 VHF. Others with the HS35 or its B&G equivalent H50 might have similar problems in the future so I figured I'd mention our solution. This really could solve two problems with the device - a rare software bug that leaves it unresponsive, or battery failure. Simrad has discontinued the model so there's no easy way to just replace it other than an expensive VHF upgrade.
The problem started when we put the handset in its charging cradle and its distress light turned on, as if it were charging, but the little charge icon on the screen didn't come on. We took it back off the cradle but the distress light stayed on, and we couldn't turn it back on with the power button. None of the buttons, charging cradle, or USB charger seemed to do anything.
We figured we would try to disassemble the handset to see if its battery could be unplugged to reset it. Disassembly was pretty easy - just removing the screws around the perimeter on the back. Once open there's a wire from the speaker that goes to a connector on the circuit board, and that connector can be pulled apart so the cover with the speaker can be separated from the body. Next there are 2 screws holding in the circuit board and display, so those can be removed, exposing the battery in the back of the device. At that point we got a surprise- the lithium polymer battery had swollen pretty substantially.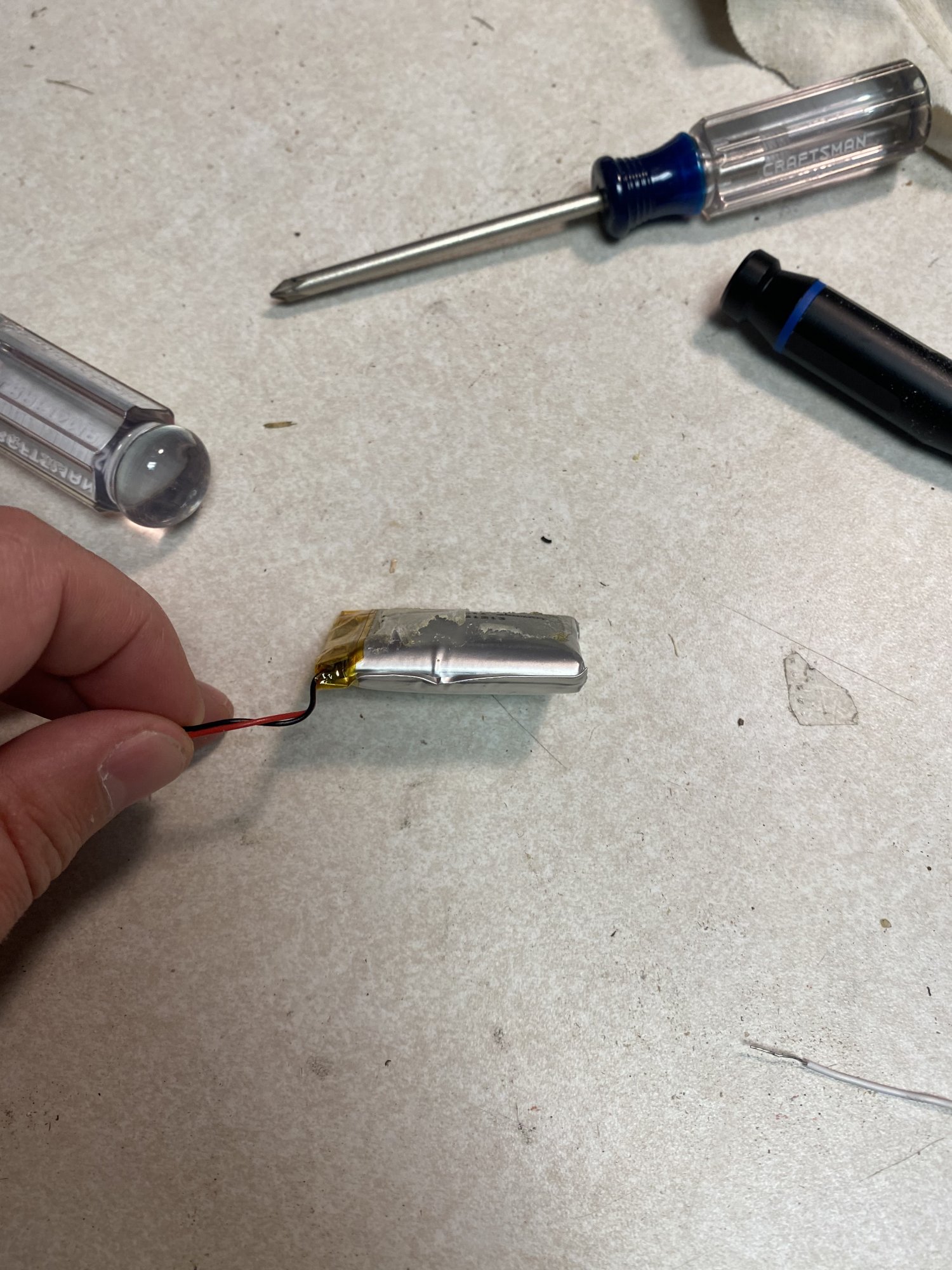 The original battery was 850 mAH and fit in a recess that's 48mm x 31mm. We were able to find a replacement on Amazon that 950 mAH and the same size. We spliced the new battery onto the old connector, hooked it all back up, and everything worked fine. There's also a gasket around the perimeter. The easiest way to reinstall that is to place the gasket back in its recess in the front cover then put the two halves back together.