Hello all,
I plan on storing my Cal 27 during the Spring-Fall period each year on a helical screw mooring buoy I'm having put into the beach behind my home on Puget Sound. During the winter I have access to a slip at a local marina. The smallest helical screw setup offered by the installer is good for a 36' boat, so my 7000# CAL will be fine so long as the lines / cables (?) from the boat to the buoy are sound.
We live in a fairly protected area of Puget Sound but during the summer we may see 20 knots and possibly 18-24" wave heights from memory. Here is some info I found online about wind and surge loads, and that scaled to my boat seems like my worst case might only be #1500 pounds of load, likely less given our more protected area and wind speeds.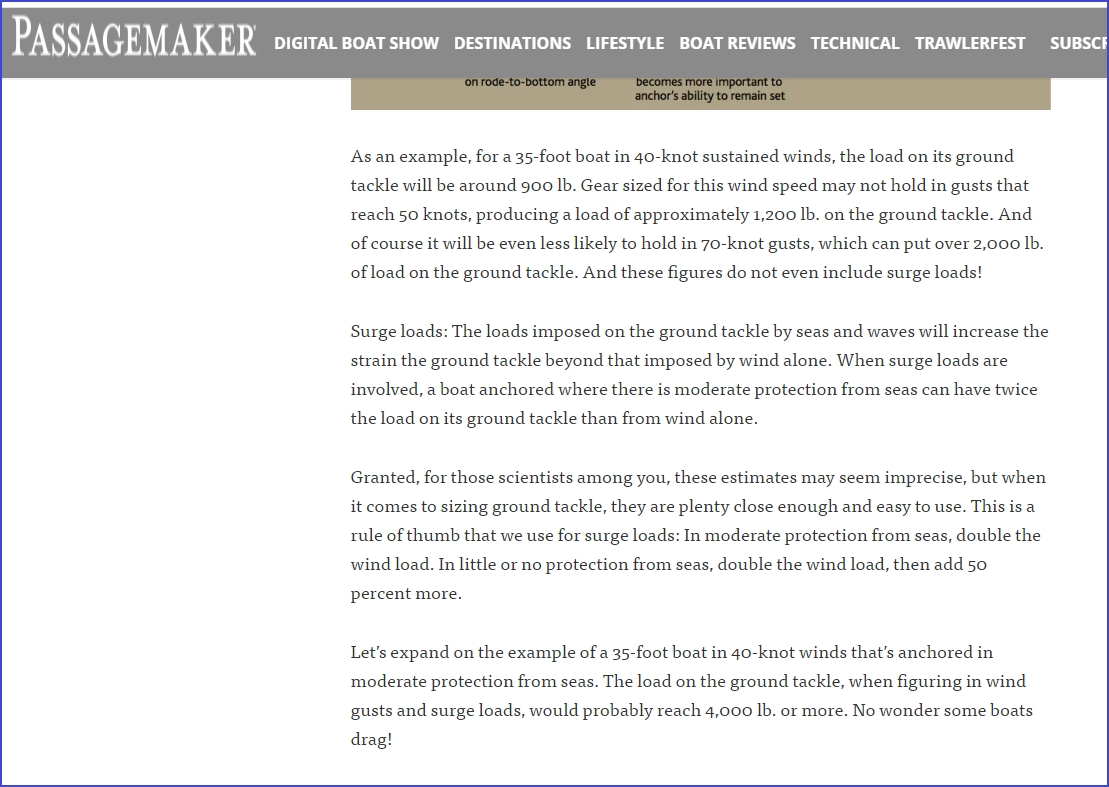 This shows my sailing area and approximate mooring location.
Chafe seems like might biggest concern and using two 3-strand nylon mooring lines with loops spliced in attached to both sides of the bow seem like it should be sufficient Not sure if I need leather chafe protection unless I use a chocks and a new cleat in the center of deck. Maybe something like 3/4" to 1" in size. But maybe I'm being dumb and a more robust system should be planned.
Here are some photos of the boat bow area.
Basic thoughts include:
-- Add or enhance the backing plates for the bow cleats assuming I can access that location in the chain locker.
-- Replace the cleats with SS versions that have a more "open center" to allow the loop to be pulled through and then over the "ears".
If there is not access to the cleats, then maybe a different attachment point should be considered. This might be forged SS eyes or loops placed into the deck with serious backing plates from underneath.
Or should I consider mounting the fitting through the stem below the headstay plate (sort of like a trailer boat would have) and use a 7x19 cable from here to the buoy alone or in addition to the lines from the cleats above?
If anyone has personal experience with this type of arrangement, please share.
Thanks for reading my post.