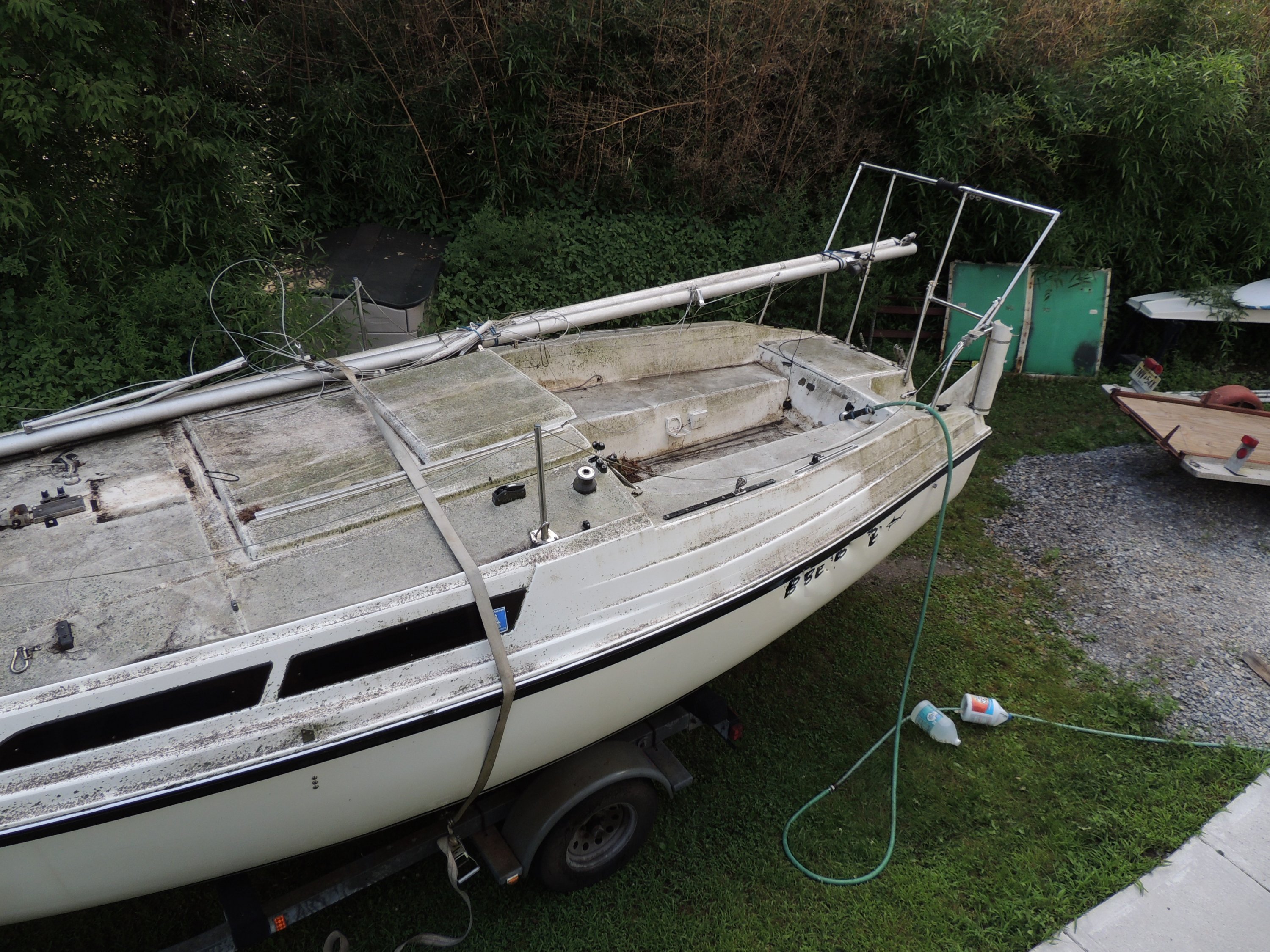 Sails were in decent shape except for a small hole (guessing battery acid by the looks of it) in the main that I'll attempt to repair, being a newbie sailor I don't plan on going out in any heavy wind to need perfect sails to start out with.
I bought it to do some light sailing until I build my skills up & primarily for family camping on our local lake and trailered trips to Cape Cod, the Patomic DC & Chesapeake Bay. We've done a lot of camping and are used to it so camping on the Mac 26 won't be an issue to stay in for a week or longer for us.
My boating experience; I've been a 30 year power boater and bought my first sail-powered Sunfish this spring which was the first time I was ever on any type of sailing vessel. I loved my little Sunfish so much that I scoured the internet for a larger sailboat to make it our new family cruiser. I was looking at Venture 22's for what I was willing to pay when this 26 came across my radar. Needless to say I was very happy getting the 26 vs. the 22 simply for the added space to sleep 4-5 people "comfortably".
Why I wanted a Mac over any other brand? For beaching it so I won't have to pay for a moring somewhere when we camp out overnight & no need for a dingy, easy to launch and recover with it sitting lower which will be a big issue getting it into my local lake's ramp. It will look like the Queen Mary on my local lake but it will be nice to be able to put it in only 8 minutes from my house, and it's a free ramp & boat camping there.
I need to transfer the mast fittings onto a replacement mast (came with the boat), remount the bow rail, very small fiberglass repairs where the bow rail was damaged from a tree falling on it (that's why the mast was damaged too).
I paid $750 for this low mileage lovely and can't wait to get it out on the water even for a trial run of just the boat and motor hopefully before winter and get the sails and mast ready in early spring for sailing.

I don't have a name for her just yet, I'll have to think of something witty or funny.