I apologize in advance for the quality of the images. I used an intervalometer app on my iPad to take a shot every two minutes and the quality was not quite what I am used to.
For this illustration I wanted to:
#1
Show the relationship of loaded voltage to SOC on a popular lead acid battery.
#2
Utilize a battery not in
perfect
health.
#3
Show why using
generic voltage to SOC charts
may not work for
your
battery bank.
#4
Show the actual rebound voltage after discharging to 50% SOC under controlled conditions.

After 20 Hour Test = 95.69Ah - Actual Tested Capacity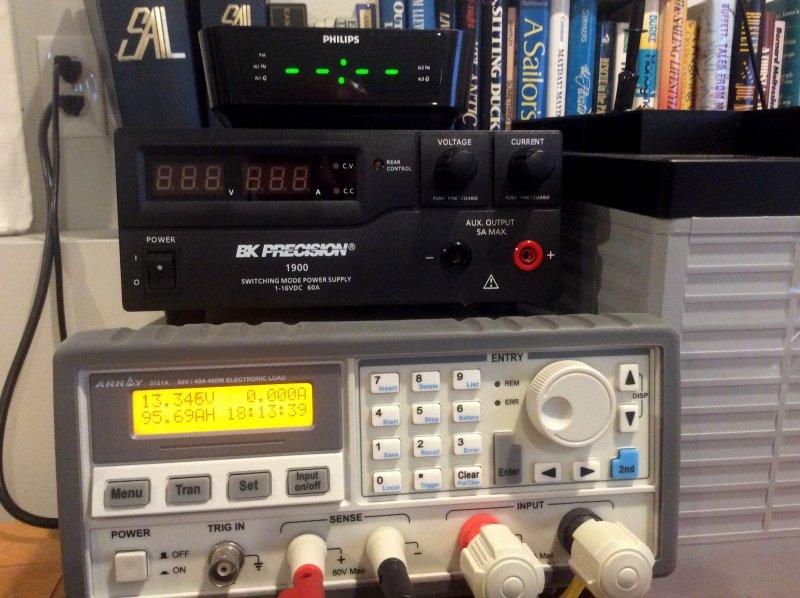 The image below is an big fail on this boaters part. He found this voltage to SOC chart on the net and I found it on his chart table. He was using it with resting voltages not loaded voltages as this chart was likely developed from.
If we examine this chart to the 20 hour rate loaded voltages in my test, they line up pretty closely but if using a chart like this for a RESTING VOLTAGE you will be murdering your batteries.
___Chart V___Test V
90% 12.75V > 12.55V
80% 12.50V > 12.50V
70% 12.30V > 12.37V
60% 12.15V > 12.24V
50% 12.05V > 12.11V
Some charts on the net are for resting voltages and some of them are for 20 hour rate loaded voltages. If using voltage as an indicator of SOC the rate of discharge can affect your SOC to voltage points. Using the WRONG CHART only exacerbates this and makes your method of murdering your batteries even worse.
Generic SOC vs. Voltage Chart
The battery in this test is a very popular AGM, a Lifeline GPL-31T. It is rated at 105Ah at the 20 hour rate but this battery, off my brothers boat, was used and only capable of delivering 95.69 Ah's.
Despite the slightly diminished capacity, 91.3% of factory rated capacity, I kept the discharge rate at 5.25A at a battery temp of about 76.4F. Ideally I would have liked to have spent the time to figure out the new 20 hour discharge rate but this entails numerous tests to 10.5V and was not really that necessary for this experiment.
The 5.25A discharge rate is slightly higher than what this battery can deliver for 20 hours but close enough to make the points I wanted to make. Perhaps less than .02% of boat owners ever tests their batteries for actual capacity, so using the 20 hour rate on this battery is a bit more real world.
For a 20 hour test, or to see where your bank stands against how it is rated for capacity, a 20 hour discharge test is performed. The battery is charged to 100% SOC and then discharged at a 0.05C discharge rate. A discharge rate of 0.05C is equal to 5% of the batteries 20 hour rated capacity so 5% of 105Ah is 5.25A.
On a cruising boat the battery bank would be considerably larger and a 20 hour discharge rate would look like this:
200 Ah Bank =
10A
Discharge Rate = 20 Hour Capacity
300 Ah Bank =
15A
Discharge Rate = 20 Hour Capacity
400 Ah Bank =
20A
Discharge Rate = 20 Hour Capacity
500 Ah Bank =
25A
Discharge Rate = 20 Hour Capacity
600 Ah Bank =
30A
Discharge Rate = 20 Hour Capacity
95% SOC - 5.25A Load - Volts =12.59V
Here the battery is at 90% SOC with a loaded voltage of 12.55V.
With a 400Ah house bank this would be a continuous 20A load from 100% SOC in order to see this loaded voltage at 90% SOC.
90% SOC - 5.25A Load - Volts =12.55V
As cruising boaters the average discharge rate is almost always far lower than the 20 hour rate. A typical boat with a 400Ah bank will be discharging, on average, somewhere in the 5-6A range over a 24 hour period, thus your voltages should not drop this fast with healthy batteries.
85% SOC - 5.25A Load - Volts =12.52V
Voltage can can be used as a predictor of SOC but you really need to know the voltage performance of your battery bank against a known discharge rate and it takes work to figure out and then it will change on you as the batteries age.
This is why generic *OCV to SOC charts rarely help the average boater and often serve to actually help murder the batteries. *OCV = Open Circuit Voltage Reading
80% SOC - 5.25A Load - Volts =12.47V
Over the years I have come to learn that most boat owners drastically over discharge their battery banks when using voltage as a predictor.
In a recent survey right here on SailboatOwners.com there were in excess 1000 responses, 98.4% of them from sailboat owners. The survey was about battery use. Of those 1000+ responses, 1188 to be exact, 72.42% of responders regularly discharged the bank to 12.1V or less. D'oh!!!!!
The bottom line with lead acid batteries is that even at your average house loads the terminal voltage should not be dipping below 12.1V, if you expect any sort of decent life from them.
As we can see in this experiment, under a 5% load to capacity discharge, 49.3% SOC is achieved at 12.10V!!!!
75% SOC - 5.25A Load - Volts =12.42V
Here we are at 70% SOC at 12.37V. Now compare this to the chart from above at 12.30V that was being used as a resting voltage chart. This is not a resting voltage and the battery has been under a constant 5.25A load now for nearly five and a half hours straight.
70% SOC - 5.25A Load - Volts =12.37V

65% SOC - 5.25A Load - Volts =12.3V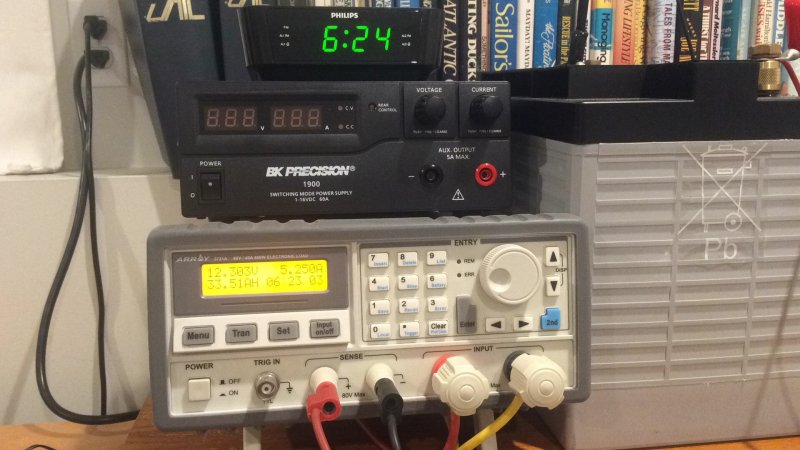 60% SOC - 5.25A Load - Volts =12.24V

55% SOC - 5.25A Load - Volts =12.18V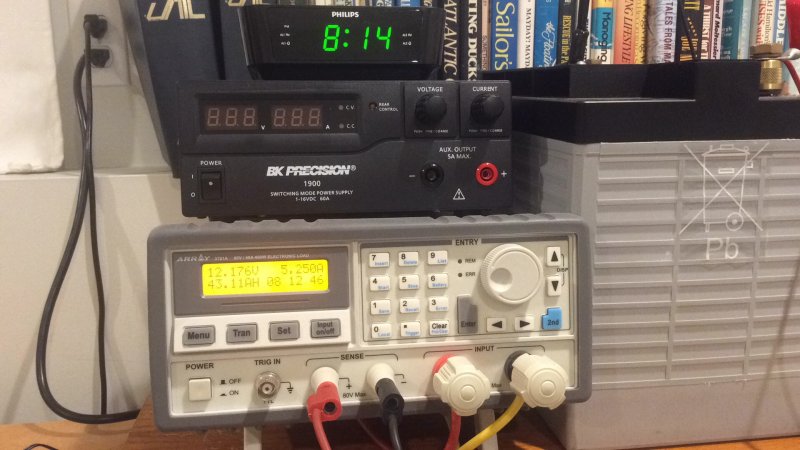 Here we are at 50% SOC after over 9+ hours of discharging at a 5.25A load and the loaded voltage is still 12.11V.
If you expect or plan to use voltage as your indicator of SOC and when to re-charge I would strongly urge you to begin recharging at a bare minimum of 12.1V, even when drawing your average house loads. Remember your house loads are a lower average load than the 20 hour rate so you will be better served to begin re-charging at 12.15V -12.2V in order to get the most life from your bank.
50% SOC - 5.25A Load - Volts =12.11V
Here's why I typically suggest you begin recharging at a loaded voltage of 12.15 -12.2V because at 12.1V this battery is already at 49.3% SOC while being discharged at 5.25A at 75F.
49.3% SOC - 5.25A Load - Volts =12.10V
In this image we can see, at 49% SOC, the resting open circuit voltage has rebounded to 12.32V. If you had been using my customers chart as resting OCV you would have mistaken 49% SOC for 70% SOC.
With this it's easy to see how
battery assassins
commit murder without even being aware of it. Use voltage carefully if you plan to use it to predict SOC.
Resting Voltage - Approx 16 Hours @ 49.3% SOC = 12.32V