Feb 17, 2006
5,078
Lancer 27PS MCB Camp Pendleton KF6BL
I love Ham Radio. I have been gone too long from the spirit that is Ham Radio. What ever happened to the DIY Ham? I think we basically have all turned into appliance operators. We don't build "stuff" anymore. Well, I decided to do something about that.
Granted, it is not a radio or amp, or digital box of any kind, but build I did. I had some spare PVC lining around and also 1/8" wire rope from boat projects. So I decided to see if I could improve on my poor antenna farm at home.
Not having a good antenna is a killer. I hear stations but cannot work them. Then there are times I cannot hear anything at all. So I did some research, specifically MFJ antennas and SGC antenna tuners, and came up with a loop for 20 meters.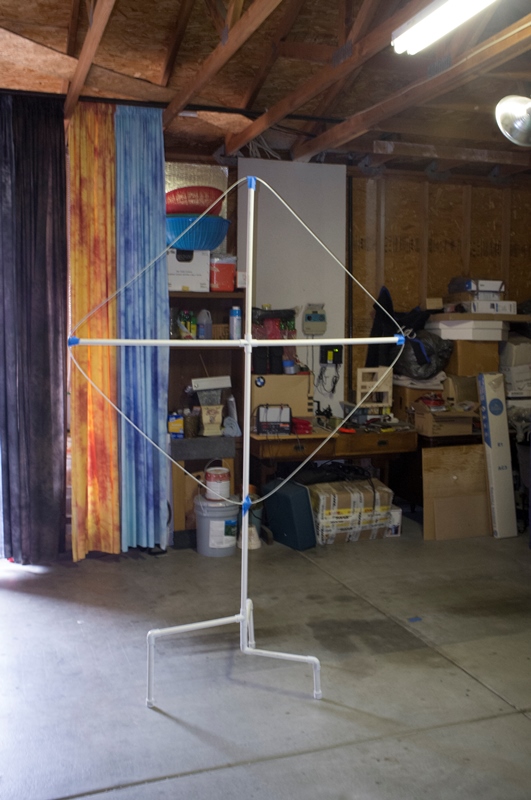 Yo... BD! Little short for 20 meters, eh? Correct. I based the size off of the MFJ-57B Loop Antenna. SGC also had a design which required 80 feet of wire in 4 loops for a workable size. This loop is 13 feet and very manageable.
As you can see, it looks like I cut the left horizontal spreader just a wee bit too long. I will trim that. So the details. MFJ's 57B is also 13 feet. Their theory is that a loop that is 75% of 1/4 wave will be resonant at the calculated frequency. I think MFJ used 14400 KHz for their calculations. But MFJ says the antenna is tunable down to 30 meters.
The blue tape is "place holder" for the wire until I get the cross symmetrical (or closer to) and figure a way to keep the wire from rotating. I will put a 4:1 balun at the feed (bottom of wire) and feed the antenna with coax. This might, or might not, work. We will see.
Since the radiation pattern is perpendicular to the plane of the antenna, and due to its small size, the antenna becomes very directional, I will use rope to act as my "rotor". The antenna will be placed on the top of my patio cover and accessed from the radio room on the second floor.
This should be fun. Don't know if this will work but it is a very cheap experiment.
Side note: I am almost sure you are looking at the other things in my garage. LOL The tie-dye cloth hanging are backdrops for my portrait studio. Yeah, I shoot portraits in my garage as a side business. In the upper right of the picture you see the fluorescent light. Under that is a 200 watt lamp to keep my subjects pupils from dilating under low light conditions in the studio. The resulting 200 watt light during a flash session is not visible due to the nature of its "low power" compared to the high power strobes I use.
P.S. It was the top piece that was too short, by 2". It has been fixed and now the antenna is semi-symmetrical.